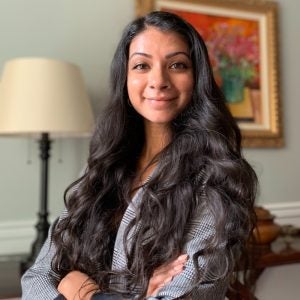 Siona Sharma is a native of Pittsburgh, Pennsylvania and originally from India. While at Georgetown, she intends to study international law and global health to better serve populations' equitable access to health, with a focus on East Africa.
Sharma received her B.S. in Science, Technology, and International Affairs from Georgetown University, where she graduated with departmental honors as a Pelosi Public Service Scholar. During her undergraduate studies, Sharma focused on global health and computer science. She was a Georgetown Global Health Fellow, through which she analyzed the 1918 influenza pandemic response, and her thesis assessed the governance of digital development projects—and their impact on recipient populations—at the World Bank. In addition to her studies, she served in the War Room of the Chief Minister's Office of Maharashtra in 2019 and worked at the World Bank for two years.
In recent years, Sharma has worked in Washington, DC, Ethiopia, Kenya, and Switzerland while serving populations' access to health. She worked as a senior management consultant at the global health practice of McKinsey and Company, primarily based in Washington, D.C and Addis Ababa, Ethiopia. While consulting for public sector organizations, she focused on maternal, newborn and child health, COVID-19 testing and diagnostics, and the implementation of an African-led continental health response in 55 countries. Most recently, Sharma worked in the Office of the Executive Director at the Geneva-based Global Fund to Fight AIDS, Tuberculosis, and Malaria, where she managed the design of a global debt swap for health in an African country.
In her service work, Siona founded a nonprofit organization, Starts with Soap, that provided underserved schools in the United States with access to basic health, technology, and curriculum needs. She currently serves as the Chairperson of the Board for Aid Pioneers, a Berlin-based aid organization that supports disaster relief efforts and community-based organizations in low-income countries, including supporting Rwandan lawyers to prevent gender-based violence and delivering medical supplies to front-line hospitals in Ukraine.
Sharma is fluent in Hindi and has studied Spanish. In her free time, she dances kathak, bhangra, and bachata; relentlessly bakes and tries pastries; and enjoys winter cold dips when there are swimmable bodies of water nearby.