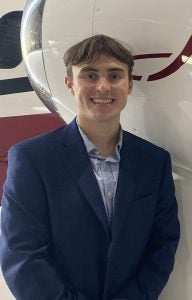 Wilson Rowe graduated with highest distinction from the University of North Carolina at Chapel Hill, where he double majored in Global Studies and Peace, War and Defense. He earned a minor in the French language and studied Arabic for four years. Will was named one of five Blue Sky Scholars in his class and was inducted into Phi Beta Kappa.
During his time at UNC-Chapel Hill, Will participated in an intensive Arabic language program for one summer semester at Al-Quds University in East Jerusalem on a Foreign Language and Area Studies fellowship through the U.S. Department of Education. He spent the spring semester of his junior year in France at Science Po Paris's Menton campus due to its concentration on Middle Eastern and Mediterranean studies.
While an undergraduate, Will interned with the Federal Public Defender's Office of the Middle District of North Carolina and at World Relief, a refugee resettlement non-profit. He also worked for three academic years at UNC's Center for European Studies as a program and research assistant. After his graduation in 2021, Will spent an academic year in France teaching English in French elementary schools as a part of the Teaching Assistants Program in France (TAPIF) run by the French Ministry of Education. Following his time in France, he spent a summer interning at Jet It, an international private aviation company.
Will speaks fluent French, a high level of Arabic, intermediate Italian, and basic Spanish –– all languages he intends to improve on during his time at Georgetown. While attending Georgetown Law, he is excited to delve into the world of international law, specifically human rights law, humanitarian law, and international criminal law. Outside of school, Will enjoys reading, traveling, movies, watching and playing sports, music, and visiting museums.