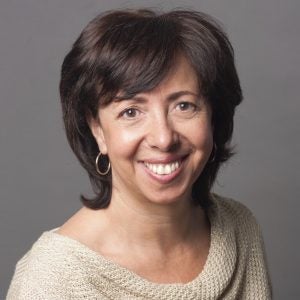 Elisa Massimino is the Executive Director of the Human Rights Institute and a Visiting Professor at Georgetown Law.
Massimino served as Georgetown's Robert F. Drinan, S.J., Chair in Human Rights where she taught courses on effective human rights advocacy in polarized environments. Her 2020 Drinan Lecture, Chutzpah and Humility: Twin Virtues for Changing the World, previews her vision for the Human Rights Institute.
Massimino has a distinguished record of human rights advocacy. She has testified before Congress dozens of times, writes for mainstream publications and specialized journals, appears regularly in major media outlets, and speaks to audiences around the country. The daughter of a nuclear submarine commander, Massimino's leadership in assembling a group of retired generals and admirals to speak out publicly against the torture of prisoners in U.S. custody was chronicled in David Cole's Engines of Liberty: The Power of Citizen Activists to Make Constitutional Law. During her leadership at Human Rights First, the influential Washington newspaper The Hill consistently named Massimino one of the most effective public advocates in the country. 
Massimino stepped down from her post at Human Rights First in 2018 to join Harvard's Kennedy School of Government as a Senior Fellow at the Carr Center for Human Rights Policy. She has also served as Practitioner-in-Residence at Georgetown's Walsh School of Foreign Service and is a senior fellow at the Center for American Progress.