Georgetown Law Magazine
Welcome to the online edition of Georgetown Law, the alumni magazine of Georgetown University Law Center.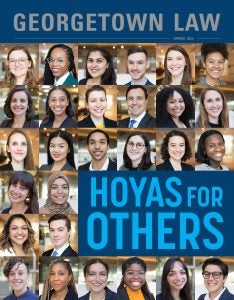 We provide news, information and a sense of community to alumni and friends of Georgetown Law.  Print issues are mailed to alumni in the United States. If you need to update your address or other contact information, please click here. We also invite alumni to submit personal and professional updates for inclusion in the Class Notes section.
Did you read an article you enjoyed? Let us know. Is there a topic or subject you'd like us to cover? Let us know that, too. We welcome your feedback. Contact our editor!