Sen. Mazie Hirono, L'78, Shares Life Lessons With Graduating Class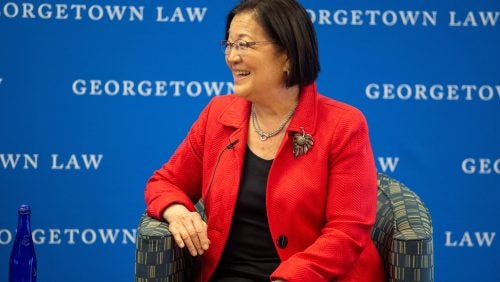 "One person can make a difference."
Sen. Mazie Hirono (D-Hawaii), L'78, who presented Georgetown Law's 2023 Graduating Class Lecture on April 25, returned to this life lesson repeatedly during her on-stage conversation with Dean William M. Treanor.
The first woman elected to the Senate from Hawaii and the first Asian-American woman to serve in the Senate, Hirono has been making a difference throughout her career.
But Hirono said that the best example from her own life, however, was her mother's decision to leave an abusive marriage in rural Japan and start a new life with her three young children in Hawaii.
"There's nothing in my life that I could do that would be as hard as what she did," said Hirono of her mother. "I learned some important things from her. One: one person can make a difference. And the second is to take risks in life. And that's how you can really find out about your mettle."
Hirono reflected on other significant life experiences, such as how becoming an activist against the Vietnam War in college led to a career in politics, how the reputation of the clinical program at Georgetown Law convinced her to come all the way to Washington, D.C. for law school and how she'd overcome losing a gubernatorial election to run again – for a seat in the House of Representatives and later, the Senate. She also spoke about some of her legislative work, including the just-introduced "Stop Judge Shopping Act," which would curb activists groups' ability to file suits with national implications in judicial districts where they may have a greater chance of finding an ideologically aligned judge.
Again and again, she urged the Georgetown Law Class of 2023 to take their new skills out into the world, to do pro bono work, to use their voices, to get out of their comfort zones and to persevere.
"Half the battle is showing up – and continuing to show up," said Hirono. "It's when you fail, and what happens after you fail, that can really show you what you're made of."
Watch the entire conversation here: