Georgetown Law Experts Break New Ground on China's Lending, Hong Kong Crackdown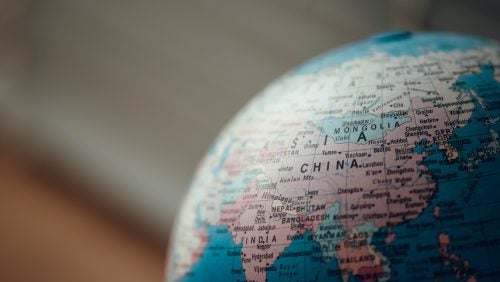 With China emerging as the world's largest official creditor, its lending program has become the subject of intense international debate. Is China a benevolent development lender — or is it forging a new global empire?
That debate is just one area of inquiry around China's fast-rising economic and political might where Georgetown University Law Center faculty and students are advancing the global conversation with innovative research and programming. It's a fitting area of strength at a law school that helped pioneer the study of Asian law in the United States, and one that today continues to break new ground through its Center for Asian Law, Institute of International Economic Law, and opportunities for students including J.D. semester abroad and dual-degree LL.M. programs with Tsinghua University Law School in Beijing.
For instance, Professor Anna Gelpern worked with eight students over two years to help her and her co-authors with the new report "How China Lends," which has made global headlines by revealing for the first time significant details about the terms of China's loan contracts. The report, a collaboration among U.S. and German law and social science scholars, is based on an analysis of 100 loans to 24 countries.
Among the key findings — contracts in the sample contain unusually broad confidentiality clauses, which may explain why they have not been studied before. More than a quarter of the contracts, representing more than half of loan commitment amounts, require the borrowing government to maintain a special bank account that puts revenues out of the country's reach.
"China is doing what hard-nosed creditors do when financing a risky borrower — albeit with far greater frequency than other creditors," said Gelpern, Anne Fleming Research Professor at Georgetown and a nonresident senior fellow at the Peterson Institute for International Economics. "Government-to-government lending is notoriously — and inexcusably — secretive."
Gelpern and her co-authors hope that the study would force more debt transparency, but also worry that it could be used to make poor countries' debt problems worse. "One possible outcome is a race to the bottom, where every public and private creditor is going to demand this kind of an account. And the poorest countries will lose control over their revenues, because they have the least bargaining power," she said."The thing to do is not to compete with China, but to get all creditors, including China, to commit to effective disarmament here."
Hong Kong & Human Rights
China is flexing its muscles domestically as well as internationally, most notably in its crackdown on Hong Kong's pro-democracy movement. In February, the Law Center's Center for Asian Law published an in-depth report on the new National Security Law that took effect in Hong Kong last year.
The study, co-authored by the Center's executive director Thomas Kellogg and research fellow Lydia Wong, concludes that the National Security Law presents one of the greatest threats to human rights and rule of law in Hong Kong since the 1997 takeover by mainland China.
Drawing on extensive research and 20 in-depth interviews with Hong Kong residents, the report is the first to document that in total more than 100 people have been arrested since the law took effect. Kellogg's and Wong's analysis shows that the new security law usurps the power of Hong Kong's Legislative Council, doing deep damage to the longstanding "One Country, Two Systems" framework.
The authors found that the law's reach extends beyond government into the educational bureaucracy, with individual teachers under threat of arrest for political speech, and that it has created an overall climate of fear and self-censorship.
"It's an extremely difficult moment," said Kellogg, who hopes to issue a follow-up report at the law's one-year mark. "But you're seeing a real degree of resilience on the part of activists and lawyers and politicians in Hong Kong. They are finding new and innovative ways to respond to this crisis."
National Security & Trade
Georgetown Law students interested in national security also decided China was the most timely and pressing topic to take on this year in planning this year's Journal of National Security Law & Policy symposium, which ran March 23-34. In addition to partnering with the Law Center's Center on National Security and the Law, the journal editors brought the Center for Asian Law into the fold to co-sponsor the symposium on "Shifting to Great Power Competition: Emerging and Continuing Threats with China."
The event featured a keynote interview with former U.S. Deputy Secretary of State Jim Steinberg, conducted by the Center for Asian Law's faculty director James Feinerman, the James M. Morita Professor of Asian Legal Studies.
Kellogg gives full credit to Feinerman for pioneering Georgetown's Asian law program, one of the first among American law schools. "He's been a real leader in the field of Chinese and Asian law study in the United States — full stop," Kellogg said, "He has played such a singular role in building up this program at Georgetown."
China is also a hot topic for those in the Georgetown Law community focused on trade law. For instance, the March 10 forum "Rethinking the WTO," sponsored by the Law Center's Institute of International Economic Law provided a Chinese perspective on trade. Panelists at the forum included Henry Gao of the Shanghai Institute of Foreign Trade and Georgetown Law Professor from Practice Jennifer Hillman, a former WTO official and co-author of a comprehensive new study of the Belt and Road Initiative published by the Council on Foreign Relations.
The Next Generation
Georgetown Law's focus on China benefits both American and international students, said Kellogg, who teaches two courses on Chinese law.
"It's hard to overstate the need for our American students in particular to have an understanding of both the strengths and weaknesses of the Chinese legal system," Kellogg said. "They can take that education with them and hopefully bring a higher level of informed sophistication to the U.S.-China conversation."
At the same time, more than 100 students from mainland China are currently enrolled in the Law Center's J.D. and LL.M. programs, providing ample opportunities for cross-cultural exchanges.
Among these students is Yuan Fang (L'21), who earned her undergraduate law degree at East China University of Political Science and Law. While studying business law at Georgetown, she has shared her extensive knowledge of Chinese law with her fellow students. At the same time, she gained a broader view of her own legal system.
"My undergraduate study mainly focused on the specific rules — I've always wanted to know more about the bigger picture," Fang said. "Professor Kellogg talks from an institutional perspective, the power dynamic of how the political system interacts with the legal system."
"As a specific example, in my college I learned about the structure of the Chinese court system — that's it," she said. "In Professor Kellogg's class I learned how the court works. Do we have an independent court? If not, why not? Will an independent court make a difference in China? These are all the deeper questions I didn't have a chance to learn when I was a college student."