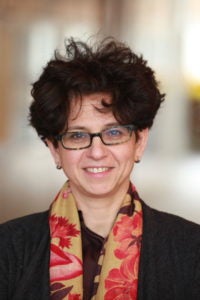 Professor of Law
Anna Gelpern
A.B., Princeton; J.D., Harvard; M.Sc., London School of Economics and Political Science
Areas of Expertise:
Anna Gelpern is a Professor of Law at Georgetown and a  nonresident senior fellow at the Peter G. Peterson Institute for International Economics. She has published research on government debt, contracts, and regulation of financial institutions and markets. She has co-authored a law textbook on International Finance, and has contributed to international initiatives on financial reform and government debt.
Before coming to Georgetown, she held full-time appointments at the American University Washington College of Law, Rutgers School of Law-Newark and Rutgers University Division of Global Affairs. She has held visiting appointments at Harvard and Penn law schools. Between 1996 and 2002, Professor Gelpern served in legal and policy positions at the U.S. Treasury Department. Earlier she practiced with Cleary, Gottlieb, Steen &Hamilton in New York and London. Professor Gelpern has taught International Finance, Contracts, Commercial Law, Financial Institutions and International Law. She earned an A.B. from Princeton University, a J.D. from Harvard Law School, and a M.Sc. from the London School of Economics and Political Science.
Forthcoming Works - Journal Articles & Working Papers
Anna Gelpern & Adam J. Levitin,
Law and Macroeconomics: The Origin of Norms
, 82
Law & Contemp. Probs.
(forthcoming).
Books
Anna Gelpern & Hal S. Scott,
International Finance: Transactions, Policy, and Regulation
(St. Paul, Minn.: West Academic 22d ed. 2018).
Contributions to Law Reviews and Other Scholarly Journals
Selected Contributions to Other Publications
Anna Gelpern,
The Strained Marriage of Public Debts and Private Contracts
, 117
Current Hist.
22-28 (2018).
[
Gtown Law
]