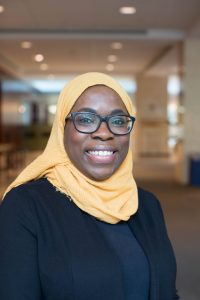 Maryam has been with the Office of the Registrar for over 16 years. She is the Assistant Registrar for Academic Records, Operations and Budget, who oversees the operations of the office and the Records team in academic transcript, bar certifications and other certifications.
She received her Bachelors in Business Administration from The University of the District of Columbia and later, her Masters of Arts in Liberal Studies, concentrating in International Affairs from Georgetown University. Prior to Georgetown Law, Maryam worked as a tutor and mentor for DC public schools and was an intern at the Smithsonian Institution.
Maryam's multiple accomplishments include the 2012 Georgetown University Professional Manager Certificate in Leadership Development and the 2015 Law Center Special Performance award.
Maryam is a Washington, DC native and enjoys international travel, being the world's coolest aunt and volunteering with local organizations.