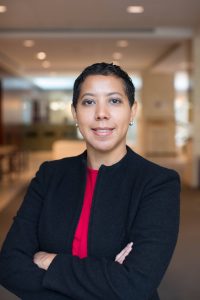 Dean Woung earned a JD at Georgetown Law in 1997, working in Residence Life and Financial Affairs before joining the Office of the Registrar in 2000. After leaving in 2015 to become the University Registrar at Marymount University in Arlington, Virginia, she returned to Georgetown Law in 2018 as Assistant Dean and Registrar. She currently serves on various University and Law Center committees, and is on the Board of Directors for the National Network of Law School Officers.
Dean Woung is committed to providing a high level of quality and professional customer service for all constituents. She feels privileged to work with the dedicated, hardworking Registrar team; conscientious, intelligent administrators in other departments; and prominent tenured and adjunct faculty. Working collaboratively with colleagues has enabled her to support students throughout their educational journey, while creating rewarding personal and professional relationships. Through her committee work and advocacy for staff and students, Dean Woung strives to live by the Georgetown mission of cura personalis (care of the person) and the Jesuit values that have inspired and motivated her to serve the Law Center community for over two decades.
Dean Woung and her family are true Hoyas. Her husband is a graduate of the LL.M. program and they were married in Dahlgren Chapel on the main campus. Their 9-year old daughter was also born in Georgetown Hospital and baptized in Dahlgren.