Our alumni have joined some of the foremost law firms in the United States and abroad. Others have embarked upon careers in the military, government service, and human rights advocacy or other public-interest work. Our alumni are committed to the program; they maintain a network through which they support each other and mentor current GLS students.
Alumni are invited to attend social events, to return to the Law Center to speak about their work and experiences, and to help current students as they chart their course of study at the Law Center and consider their career options. The small size of the program ensures that our GLS network of students and alumni remains strong and cohesive.
Please find several featured alumni below, or view a full listing.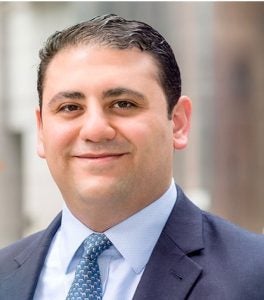 Randy Nahlé (L'10)
Partner, Milbank LLP London
"GLS brought together some of the most talented and ambitious people I met at Georgetown, and I am glad to see it continues to be a spectacular program with distinguished students and faculty, including the exceptional David Stewart who has been the tireless captain and source of inspiration for this program for as long as I remember."
Maher Bitar (L'12)
Special Assistant to the President and Senior Director, Intelligence Programs, NSC
"The Global Law Scholars program is truly unique. The program brings to life the practice of international and national security law in a way that's only possible in our nation's capital.
As a GLS student, I was incredibly fortunate to learn first hand from expert practitioners and to do so as part of a community of law students with a shared passion."  
Ivana Djak (L'16)
Litigation Associate at Clifford Chance
"GLS was one of the most formative and meaningful experiences I had in law school. GLS gave me a built-in community of friends who were similarly interested in international law and affairs, and who had backgrounds as varied as my own. From providing study groups and breaks and outline banks in law school, to career advice and networking opportunities today, and emotional support throughout, the GLS students and faculty have been an invaluable resource in my personal and professional life. I'm very grateful to be a part of this community."
Sabrina McCubbin (L'18)
Attorney at the Office of the General Counsel, National Security Agency
"I was incredibly fortunate to have been part of the GLS program. The tight-knit network of faculty, alumni, and students provided me with a wealth of academic tools and professional mentorship.
Because of those resources, I'm now practicing law in the Intelligence Community, and my work has an impact on critical national security issues—something I never imagined possible before law school."

Emmie/M.E. Bultemeier (L'20)
Litigation Associate at Clifford Chance
"The Global Law Scholars program was my favorite part of law school–it connected me with other students from all over the world with similar interests, provided access to wonderful professors and mentorship, and was instrumental in helping me to decide on my international practice area and law firm."
Brian Johnson (L'20)
Military Justice Advisor, JAG Corps
"Global Law Scholars was one of the best things I did in my academic career. I would not have met some of my closest friends or discovered my current career without it. Both the professors and the curriculum were top notch. I could not recommend it highly enough."
"Global Law Scholars exposed me to not only a wide array of legal careers but also an incredible group of people.  I would not be the lawyer I am without it." 
Olivia Le Menestrel (L'21)
Associate, White & Case, Paris
"Being in GLS was a great experience, where I met many good friends and was able to develop my interest in public international law."
Antoine Prince Albert III (L'20)
Government Affairs Policy Counsel, Public Knowledge
"In GLS, I found my tribe of multilingual, multicultural, and Internationally experienced young lawyers. As we are learning the foundations of the U.S. legal system, the program gave me the tools to do advanced comparative and international legal analysis. Since graduation, I have used my experiences and comparative law skills in my domestic tech/telecom policy work. I highly recommend the GLS program for students with international experience who may want to work in transnational sectors like technology and telecommunications."
Alden Fletcher (L'20)
"GLS allowed me to appreciate the landscape of international and transnational law opportunities very early on in law school. I also learned a lot from my very impressive peers and mentors in the program."
Frances Chang (L'07)
Frances Chang is currently a Fellow in the White House Leadership Development Program, serving as a Senior Policy Advisor on the National Economic Council.  She most recently served for four years as the Associate Director for South American Affairs at the U.S. Department of Justice's Office of International Affairs (OIA).
Since joining OIA in 2007, Ms. Chang has been responsible for international law enforcement cooperation with partners in Canada, the English-speaking Caribbean, and East Asia, and has advised on U.S. litigation and legal policy issues arising from the execution of mutual legal assistance (MLA) and extradition matters.
Ms. Chang has served appointments as a Special Assistant U.S. Attorney in the U.S. Attorney's Office for the District of Columbia, and as a Desk Officer in the U.S. State Department.  Ms. Chang also served as a Peace Corps Volunteer in the People's Republic of China.  Ms. Chang received her undergraduate degree from Harvard University, and law degree from Georgetown University Law Center.