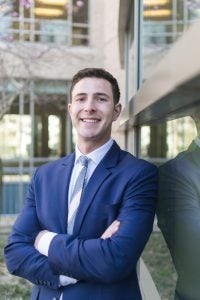 Aaron is an Associate at Paul Hastings LLP in the San Francisco office. Aaron works for the Real Estate Department with concentrations in commercial transactions and real estate development. Aaron was a Summer Associate at Paul Hastings LLP.
Aaron grew up in San Francisco and then attended Phillips Exeter Academy for high school. Aaron graduated from New York University Summa Cum Laude. While in New York, Aaron interned at the Brooklyn District Attorney's Office, Investigations Division. He then started at Vornado Realty Trust, a developer with a portfolio of over 35 million square feet. Aaron first worked as an intern for building management before moving to the corporate headquarters. As a Project Associate, he supported the office leasing, real estate development and in-house counsel groups.
Aaron returned to Vornado Realty Trust for his summer after his first year at Georgetown Law. In the fall of 2019, Aaron interned at the U.S. General Services Administration, General Counsel's Office.
On campus, Aaron was the Treasurer of the Corporate and Financial Law Organization ("CFLO") and served on CFLO's Executive Board. Aaron was a Vice President of the Jewish Law Students Association ("JLSA") and managed event planning and alumni engagement. In his final year, Aaron was a Community Circle Leader, leading a student group that discussed mindfulness related topics. Aaron was also a member of the Student-Faculty Finance Committee.
New York University, B.A. in Public Policy, 2017
Georgetown Law, J.D. 2021