Mathematician Turned Tech Deal-Maker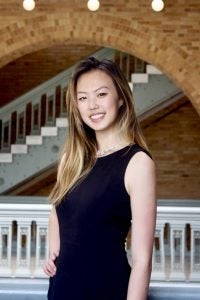 Alice Cao is in her first year at Georgetown Law and interested in mergers and acquisitions and capital markets law, specifically in the tech industry. She is involved in the Corporate and Financial Law Organization to learn as much as possible about the work from practicing transactional lawyers. She also has a keen enthusiasm for the developing law encompassing blockchain, specifically regarding smart contracts.
Before Georgetown…
While in the heart of Silicon Valley, Alice interned at KPMG and worked on M&A and public offering deals for both private tech and big tech clients. She also interned at a boutique investment bank where she provided advisory for startups looking to make a public offering or acquire funding in the SaaS subsector. From these experiences, she developed a passion for the intersection between technology and law, specifically in the legal puzzles surrounding mergers, acquisitions, and public offerings in the technology sector.
Alice earned her Bachelor's in Applied Mathematics and a minor in Data Science from the University of California, Berkeley.
Helping Others Succeed
Alice is dedicated to promoting diversity throughout the industry and helping future students interested in finance, technology, or law feel more comfortable as a minority in these often intimidating industries. She works with the Asian Pacific American Law Student Association to do so at Georgetown. As an undergrad, she was a mentor for the UC Berkeley Mathematics Undergraduate Student Association, where she helped budding female mathematicians develop confidence and a path to success in a heavily male-dominated field.
While not reading or writing…
Alice loves gastronomy, travel, and skiing. Originally from Boulder, Colorado, Alice grew up in the mountains and snow. Her favorite ski resort is Arapahoe Basin, though the food offered in the ski area falls short compared to dishes at her favorite restaurants in Vancouver and Tokyo – and in her mom's kitchen.
University of California, Berkeley, Bachelors in Applied Mathematics with a Concentration in Quantitative Finance, Minor in Data Science, 2020
Georgetown Law, JD expected, 2023
Practice Interest: Mergers and Acquisitions and Capital Markets – Focused on Tech