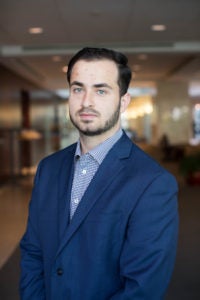 Alin is a 3L at Georgetown Law, where in addition to being a member of the Business Law Scholars, he is the President of the First-Generation Student Union, a member of the Corporate & Financial Law Organization, and a staff member of the Georgetown Law Journal.
He is externed in the Enforcement Division at the Securities and Exchange Commission and worked at Schulte, Roth, & Zabel in his L2 summer.
Prior to Georgetown, Alin prepared legal documents while interning at a paralegal firm, while simultaneously working at his family's small business. In that role, he ensured that the business was in compliance with the Arizona Department of Health Services and had the opportunity to draft a wide array of documents such as contracts, non-compete clauses, and the company's articles of incorporation. As a member of the LLC, he had the opportunity to solely prepare and litigate a lawsuit on behalf of the business in the Arizona Justice Court.
Alin was born and raised in Romania and is fluent in Romanian and proficient in Spanish. In his free time, he enjoys hiking, traveling, and playing soccer. He is excited to be a part of the Inaugural Cohort of Georgetown's Business Law Scholars.
Arizona State University, B.A., in Political Science, 2017
Georgetown Law, J.D. expected, 2020