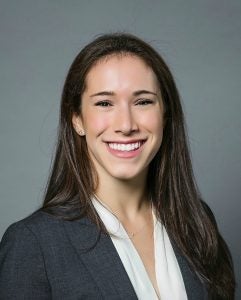 Dani is a 3L at Georgetown Law. At Georgetown, she is a member of the Corporate and Financial Law Organization and a mentor in the Women's Legal Alliance. She is spending the fall as a judicial intern to the Honorable Judge Paul L. Friedman at the United States District Court for the District of Columbia.
Dani spent her 1L summer working in the Complex Financial Instruments Unit of the Division of Enforcement of the Securities and Exchange Commission and as a FinTech research assistant for Professor Chris Brummer. Prior to law school, Dani spent two years working as a Legal Associate at J.P. Morgan and one year working as a Corporate Governance Analyst in Buenos Aires, Argentina.
After law school, Dani hopes to pursue a career in White Collar Litigation in New York. Dani grew up in Cleveland, Ohio and enjoys cooking, traveling, and scuba diving.
Washington University in Saint Louis, B.A. in International and Area Studies, 2016
Georgetown Law, JD, expected, 2022