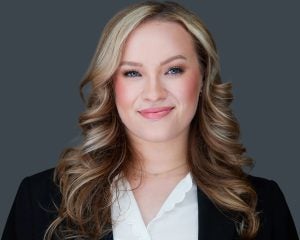 Fiona is a 2L student and a member of Cohort 6 in the Business Law Scholars program. Practice areas of interest include general Corporate; M&A, Private Equity, and Entertainment Law.
At Georgetown, Fiona is a Vice President of the Corporate and Financial Law Organization; a member of the Jewish Law Students Association; and a member of the Women's Legal Alliance.
During the Summer of 2024, Fiona will be a Summer Associate at Sidley Austin in Los Angeles in the Private Equity practice group.
Background
Fiona graduated cum laude from Portland State University with a degree in Political Science and a minor in Law and Legal Studies with Distinction.
During undergrad, Fiona worked part-time as a Paralegal at Lewis & Clark Law School Low Income Taxpayer Clinic. She also worked at the medical malpractice and personal injury firm Sokol & Associates, P.C. as a Paralegal for three years, both during undergrad and after graduation.
During her 1L Summer, Fiona worked at the family law firm Lissa Kaufman Law, and attended and assisted on a week-long trial.
Beyond Law School
Fiona is from Portland, Oregon. She enjoys reading, vintage fashion, antiques, and Formula 1.
Portland State University, BA Political Science, cum laude, 2020
Georgetown Law, JD, expected 2025