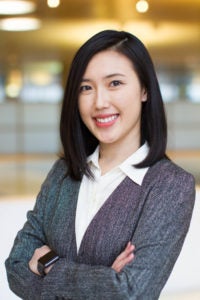 Hera is a current Georgetown Law student in the Inaugural Cohort of the Business Law Scholars program. At Georgetown, she is an Upperclass Representative for the Asian Pacific American Law Students Association (APALSA), where she previously served as the Private Sector Professional Chair. She is also a Student Ambassador for prospective students and a Senior Editor of the Georgetown Journal of Gender and the Law.
Prior to law school, Hera worked for PricewaterhouseCoopers in Los Angeles and GF Asset Management in China, where she focused on capital markets in Asia. She spent her 1L summer as a capital markets intern at Clifford Chance in Shanghai. In Fall 2018, she externed at New Markets Lab, a non-profit organization that sparked her interest in international economic and development issues. Her current research project explores how FinTech and law can work together to help women entrepreneurs and promote financial inclusion. Upon graduation, Hera will be joining Latham & Watkins in New York and will continue working at the intersection of business and law.
Hera was born in China and lived in Italy before coming to the United States. She is fluent in Mandarin and Cantonese and speaks Italian with a hint of a Sicilian accent. She enjoys wine, tennis and skiing.
University of California, Los Angeles, B.A. in Business Economics, 2015
Georgetown Law, J.D. expected, 2020