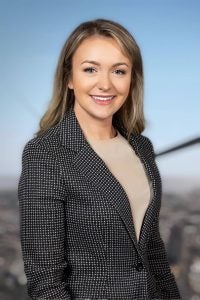 Hollie is in her third year at Georgetown Law School, active in the first-generation student union, the Corporate and Financial Law Organization, and the Women's Legal Alliance. She is a research assistant for Professor Hillary Sale and a teaching assistant for Dean William Treanor's "Lawyers as Leaders" course.
Hollie was in the Summer Associate Classes of 2019 and 2020 at Sullivan & Cromwell. She has received a full-time offer to return after graduation.
During her undergrad at the University of Virginia, Hollie led a team that won a grant from the university to develop a virtual admissions tour, a project that grew out of her days as a tour guide of the Rotunda, a part of UNESCO World Heritage Site that includes original buildings built by and for Thomas Jefferson.
Hollie enjoys following college basketball, drinking bubble tea, and playing board games.
University of Virginia, B.A. in Political Philosophy, Policy and Law with High Distinction (2018)
Georgetown Law, J.D. (Expected 2021)