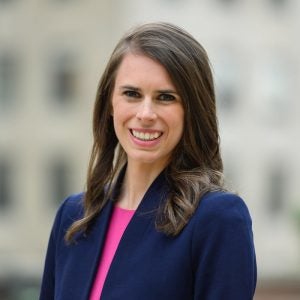 Jordan Jackson, member of the Business Law Scholars program at Georgetown Law following an early career in the news and media industries.
Background in Media
After graduating with degrees in political science and journalism at the University of North Carolina – Chapel Hill, Jordan held roles at CNN in New York, CBS News in London, the Late Show with David Letterman, and NBC's Meet the Press. In 2019, NBC News selected her as a network Presidential Campaign Embed, giving her the chance to live on the road and cover candidates during the 2020 election cycle. When COVID-19 interrupted campaigning, Jordan pivoted to reporting pandemic-related stories on-air for MSNBC. Most recently, she served as a producer for the TODAY Show, putting together and writing pieces on politics and breaking news.
Future in Transactional Law
Witnessing the evolution and rapid change of the ever-expanding media industry – and firsthand experience watching traditional newsrooms scramble to rebuild workable business models – inspired Jordan to return to school to explore new opportunities at the intersection of business and law. Particularly interested in emerging tech, she plans to pursue a career in transactional work in New York City after graduation.
Outside of Georgetown Law
Jordan grew up in Mount Airy, NC, and enjoys running and skiing, loves a good podcast (except true crime), and is always up for exploring a new city.
University of North Carolina – Chapel Hill, BA, Political Science and Broadcast Journalism, 2017
Georgetown University, JD expected, 2024