Globally Minded Generalist, CFLO 1L Representative, Nonfiction Bibliophile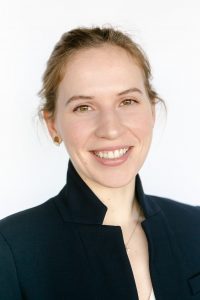 Katherine became interested in law school while an undergrad at Stanford University where she pursued her interest in the intersection between the private and public sector. Before attending Georgetown, she worked as an Analyst at a non-profit foundation that invests a portion of its endowment in startups. Katherine is interested in both litigation and corporate law opportunities with a global bent. She hopes to work in Washington, D.C. after graduation. 
Experience 
Katherine earned her Bachelors degree in International Relations from Stanford University, where she also earned a Minor in Middle Eastern Languages, Literature and Cultures. While at Stanford, Katherine was heavily involved in Stanford Women in Business, an undergraduate club, and took time away from the university to attend study abroad programs in Dubai, United Arab Emirates, and Irbid, Jordan. She also interned with early-stage companies and a congressional office while in undergrad. 
After graduating, Katherine worked as a Research Assistant for a non-profit foundation in Washington, D.C., on nuclear nonproliferation and arms control issues, before taking on a role at the Abell Foundation in Baltimore, Maryland. At Abell, Katherine worked on the finance team and assisted with research and management of the foundation's two most capital-intensive portfolio investments, and gained exposure to litigation at the USITC, PTAB, and other venues. She also assisted with diligence for potential new investments. In addition, Katherine worked for an early-stage logistics company in Nairobi, Kenya. 
At Georgetown, Katherine is involved as a 1L Representative in the Corporate & Financial Law Organization, and is a member of the Women's Legal Alliance. 
Outside of the Classroom 
Katherine enjoys reading nonfiction, particularly biographies and books on geopolitics, sociology, and history, in addition to having a sizable portion of her library dedicated to books on all things culinary. She also enjoys fitness and travel.  Katherine is originally from a small rural town in Virginia. 
Stanford University, BA in International Relations, Minor in Middle Eastern Languages, Literature & Cultures, 2016. 
Georgetown Law, J.D. Expected, 2023. 
Practice Interest: Litigation; Energy/Project Finance, Nonprofit Law