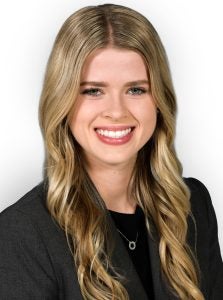 Kelina is a 2L student and a member of Cohort 6 in the Business Law Scholars program. Her goal is to become a corporate lawyer and is interested in M&A.
At Georgetown, Kelina is involved in the Health Law Society, Corporate & Finance Law Organization, National Security Law Society, Georgetown Law Sports, Entertainment, & Media Law Society, and Women's Legal Alliance.
Background
Kelina graduated summa cum laude from the Union College where she earned a Bachelor's in Business Administration and Finance. She was a Column Editor at the Clocktower (student newspaper), was a Teaching assistant for several finance and accounting classes, and Vice President of the Student Association. During her final year, Kelina worked for U.S. Senator Ben Sasse as a Staff Assistant where she developed the intern curriculum, assisted in the intern hiring process each semester, and conducted research projects and outreach initiatives.
During her 1L summer, Kelina worked in-house at the Institute for Defense Analyses. She is also currently a Law Clerk for the U.S. House of Representatives Select Committee on China, which she started during her 1L Spring.
Beyond Law School
Kelina is from Orlando, Florida. She enjoys tennis, volleyball, Formula 1, violin, cars, motorcycles, hiking, and The Dallas Cowboys.
Union College, BS Business Administration – Finance, summa cum laude, 2022
Georgetown Law, JD, expected 2025