COMMUNITY ADVOCATE WITH A BROAD BACKGROUND, BLSA 1L REPRESENTATIVE, AVID FOODIE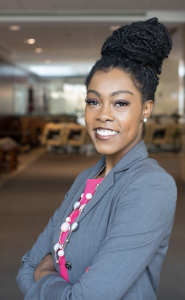 Keniece Gray is on a mission to build a career developing practices and partnerships within and between the private, public, and government sectors that will help advance equity for members of underserved and underrepresented communities.
Background
Keniece earned her Masters of Public Administration from Cleveland State University in 2020, after earning her Masters of Accountancy from Case Western Reserve in 2017. Before coming to law school, Keniece worked as an auditor and service project lead at Nestle Purina, Deloitte, and the City of Cleveland. She is a national speaker on topics such as pay equity and women's empowerment.
Keniece has received awards recognizing her unwavering commitment to cultivating members of underrepresented groups' interest in leadership, mentorship, and professional development:
2019 Crain's Cleveland Business Twenty in Their Twenties
YWCA Greater Cleveland Distinguished Young Woman honoree
Experience
Keniece spent her 0L summer interning at Fried, Frank, Harris, Shriver, and Jacobson LLP as a SEO Law Fellow. 
Keniece's prior work experiences have inspired the kind of law practice she may want to pursue. One idea is employment law – borne from her work in:
Auditing human resources
Working in local government
Conducting research pertaining to diversity, equity, and inclusion in the public and private sectors
Extensive board service
A theme that runs through her practice plans is protecting at-risk students from discrimination in education. This comes from observing inequities between learning and development opportunities in various academic settings (i.e. private, public, and catholic schools). Finally, her extensive board service, including Alpha Kappa Sorority, Incorporated and the Boys & Girls Clubs of Cleveland, has planted seeds of interest in non-profit corporation law.
Outside of the Classroom
Keniece enjoys traveling abroad and tasting fine cuisines, binge watching shows on The Food Network Channel, reading, and volunteering. She currently participates in a number of legal pipeline programs including DAPP, LCLD mentoring, Pipeline to Practice, and SEO Law.
Cleveland State University, Master of Public Administration, 2020
Case Western Reserve University, Masters in  Accountancy, 2017
Georgetown Law, JD expected, 2023
---
Practice Interest: Employment and Labor Law, Education Law, Nonprofit Law, Civil Rights