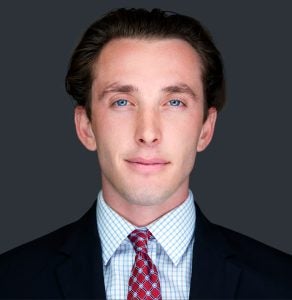 Logan is a 2L Georgetown Law student in Cohort 6 of the Business Law Scholars program with the goal of becoming a corporate lawyer, with a focus on M&A and Real Estate. During his first year at Georgetown, he was a Corporate and Financial Law Organization 1L Delegate and now serves as Vice President.
Background
Logan graduated from the University of California Irvine with a degree in Business Administration. During college, he co-founded and was the Director of Business Development at Breakdown Incorporated, a political application meant to connect American citizens with their government and representatives, and to help better represent the country's interests in legislation and elections. After graduation, he worked as a sales associate at Global Maxima Marketing and as a legal assistant in California. During his 1L summer he worked at the Commodity Futures Trading Commisson in the Division of Enforcement at the New York branch as a legal intern. He plans to spend next summer and the beginning of his career at Kirkland and Ellis in the New York office.
Beyond Law School
Logan is from Southern California. He is a surfer, sailor, and spearfisher and in his free time, enjoys playing guitar, drums, and playing pickleball and volleyball. He enjoys working on and riding motorcycles and traveling when not in school.
University of California, Irvine, BS Business Administration, 2019
Georgetown Law, JD, expected 2025