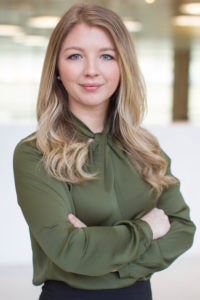 Mallory is a current Georgetown Law student. At Georgetown, she participates in The Women's Legal Alliance and The Corporate and Financial Law Organization and serves as a board member for the Law Center's Annual Corporate Symposium.
Prior to Georgetown, Mallory helped grow BurnCycle, a Portland, Oregon based fitness startup and then worked at TRUE Private Wealth Advisors, where she focused on implementing effective and secure marketing strategies for the independent financial advising firm.
Mallory's passion for working with startups and finance brought her back to Portland, Oregon for her 1L summer to intern for a rapidly-growing energy blockchain startup, LO3 Energy. Mallory plans to continue working with businesses through pursuing a career in corporate law. In her free time, Mallory enjoys event planning, racket sports, and fostering rescue puppies.
She grew up in Salem, Oregon and spent her high school summers learning the value of hard work as a wrangler on a cattle ranch in Montana. Mallory was selected to be a Georgetown Business Law Scholar and is in the Inaugural Cohort.
Gonzaga University, B.B.A. in Business Administration and Communications, 2015
Georgetown Law, J.D. expected 2020