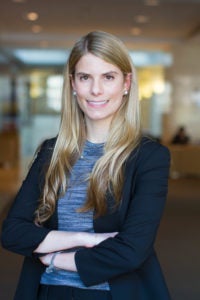 Maggie is a current Georgetown Law student. At Georgetown, Maggie is a Law Fellow and also serves as a student ambassador.
Maggie obtained her B.S., cum laude, from Vanderbilt University.
Prior to Georgetown, Maggie worked for Huron Consulting Group and then Steel Partners Holdings, a global diversified holding company based in New York.
Maggie has accepted a full time position at Debovoise & Plimpton in New York, where she also spent her 2L summer. She spent her 1L summer in New York, as well, working with the Enforcement Division of the U.S. Securities and Exchange Commission.
Maggie grew up in New York City and enjoys running, hiking, and skiing. Maggie was selected to be a Georgetown Business Law Scholar and is in the Inaugural Cohort.
Vanderbilt University, B.S. in Business and Management, 2011
Georgetown Law, J.D. expected, 2020