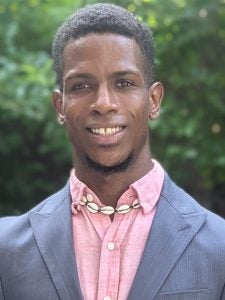 Marvin is a 2L Opportunity Scholar and Business Law Scholar in Cohort 6. His legal interests include litigation; specifically in the areas of Antitrust and Securities. But Public Company Representation and other corporate practice areas like Banking are also of interest. Broadly speaking he wants to pursue legal work that helps foster healthy market dynamics that benefit workers, consumers, and businesses alike. This past summer Marvin worked at Latham & Watkins in NY as a 1L Diversity Scholar and will be joining their DC office next summer. This school year he will be acting as a RISE Teaching Fellow, RISE Peer Mentor, a Research Assistant for Professor Hillary Sale, and competing as a member of Georgetown's Trial Advocacy team.
Background
Marvin is from the Bronx and graduated from Columbia University with a degree in Political Science and African American Studies. After graduation, he became the Founding Coach and CEO of Above & Beyond Fitness and Nutrition, LLC where he personalized training and nutrition programs to help people build sustainable lifestyles. He also spent time as a Lending & Transaction Paralegal at Kriss & Feuerstein, LLP. Please feel free to include more background info and add  1L summer information.
Beyond Law School
Marvin is from the Bronx, NY. His interests include weightlifting, anime, stand-up comedy, and political, economic, and social podcasts.
Columbia University, BA Political Science and African American Studies, 2019
Georgetown Law, JD, expected 2025