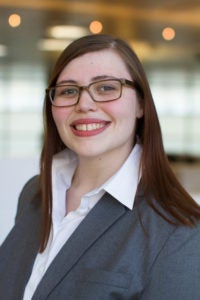 Meg is currently a 3L at Georgetown Law. Originally from a farm town in northeastern Mississippi, Meg earned her undergraduate degree while stationed on a variety of military bases through the University of Maryland University College while her husband served in the U.S. Air Force.
After graduating on an Air Force base near Frankfurt, Germany, with a B.S. in Psychology in 2015, Meg moved to Seattle, Washington, where she worked for the local Sheriff's Office running background checks on concealed pistol licenses.
In law school, Meg has become interested in business law and international business transactions. Her time at Georgetown has also sparked an interest in corporate nonprofit law through her continuous work with Special Olympics International and her participation in Georgetown's Social Enterprise and Nonprofit Law Clinic.
After graduating from Georgetown Law in May 2020, Meg (and her husband, dog and cat) will be moving to New York City where she will begin work as a corporate associate at White & Case, LLP. Meg is excited to begin a career working on large, cross-border transactions and hopes to take her legal career international within the coming years. In her free time, Meg enjoys baking, cinema and spontaneous travel.
University of Maryland University College, B.S., Psychology, 2015
Georgetown Law, J.D. expected, 2020