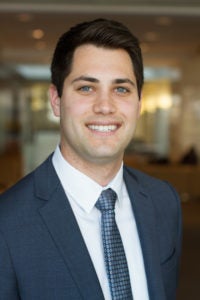 Michael is an Associate at Paul Hastings. He is pursuing a career in a transactional practice group and one day hopes to serve as an adjunct professor. He is a member of the inaugural cohort of Business Law Scholars.
While at Georgetown Law, he participated in the corporate & financial law organization and served as a student ambassador.
Prior to law school, Michael worked for PricewaterhouseCoopers LLP in New York, where he was a member of the Specialized Tax Services team. Michael's projects included consulting on proper federal income tax treatment of corporate transaction costs as well as analyzing a company's ability to utilize its losses to offset future income.
Outside of school, Michael is passionate about event planning, stemming from his experience in organizing movie premieres, concerts, and alumni events. He grew up in the northern suburbs of New Jersey and also enjoys alpine skiing, drama and science-fiction movies, and old-school game shows.
Emory University, B.B.A. 2015
Georgetown Law, J.D. Expected 2020