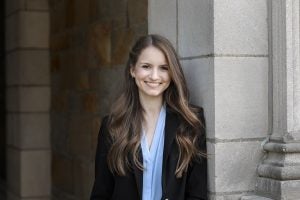 Rebecca is an associate attorney at Antone, Casagrande & Adwers, P.C., an immigration law firm in the Metro Detroit area. She is also a member of the second Cohort of Business Law Scholars.
Rebecca received her law degree from Georgetown in 2021. While in law school, she participated in the Business Law Scholars Program and was a senior editor on the Georgetown Immigration Law Journal. She also completed pro bono work for various organizations, including the National Veterans Legal Services Program, and successfully fulfilled her pro bono pledge. She interned for the Chief Justice of the Michigan Supreme Court during her 1L summer, and subsequently interned for Prosecutors' Center for Excellence, a non-profit organization dedicated to promoting best prosecutorial practices, during her 2L summer.
Prior to attending law school, Rebecca earned her B.A. in Economics from the University of Michigan in 2017. She graduated with distinction and was inducted into the Phi Beta Kappa honor society.
University of Michigan, B.A. in Economics, 2017
Georgetown Law, J.D. 2021