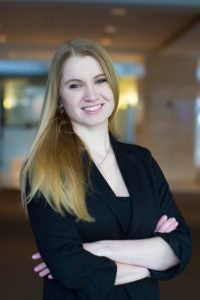 Silvia is a current Georgetown Law Student and a member of the Inaugural Cohort of the Business Law Scholars program. At Georgetown, in addition to being an Articles Editor for The Georgetown Law Journal, she enjoys being a member of the Corporate and Financial Law Organization, the Women's Legal Alliance, and the International Law Association.
She obtained her B.A., magna cum laude, from the University of California, Berkeley. There she received the Leadership Award, an honor bestowed for her innovative, initiative-driven leadership's positive impact on her community and the Robert T. Matsui Scholarship for Political and Public Service. She credits her extensive work while at Cal with the Health and Medical Apprenticeship Program and the Disability Rights Education and Defense Fund with her decision post-graduation to work at the Johns Hopkins Berman Institute of Bioethics and then in a research capacity in the field of clinical pharmacology.
After graduating from Georgetown Law in May 2020, Silvia and her husband will be moving to Houston, TX where she has accepted a position as a corporate associate at Willkie Farr & Gallagher, LLP. She expects her work with two of Georgetown's Clinics, the Criminal Defense and Prisoner Advocacy Clinic and the Health Justice Alliance, will inform her pro bono work at Willkie for years to come.
Silvia enjoys spontaneous travel, skiing, and spending as much time as possible with her niece Alexa.
University of California, Berkeley, 2014
Georgetown Law, J.D. expected 2020