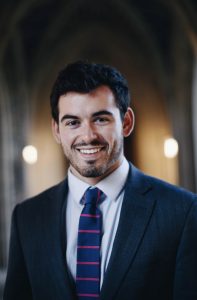 Spencer Perkins is a current Georgetown Law student. His background is analytical – with work experience in both engineering and financial analysis.
Spencer's undergraduate degree in Mechanical Engineering at Duke University led him to work at a small materials engineering firm, where he co-authored two patents.
Prior to law school, Spencer worked for a large real estate developer, where he observed how the legal team interacted with business executives as they aligned business activities with legal requirements.
Spencer is originally from Washington, D.C. and plans to work in corporate law upon graduation, hopefully combining interests in finance, engineering, and law. He enjoys skiing, golfing, and listening to podcasts.
Duke University, BSE (distinction) Mechanical Engineering, 2020
Georgetown Law, JD expected, 2023