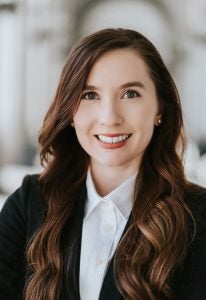 In addition to being a Business Law Scholar, Teresa is also pursuing a Master's in Security Studies at Georgetown, with a concentration in international security. She is a member of the Corporate & Financial Law Organization and the National Security Law Society.
The summer after her 1L year, Teresa worked as a legal and compliance intern at the Teacher Retirement System of Texas (TRS), the largest public retirement system in Texas. While at TRS, she worked on investment, data protection, and employment matters. This past summer, Teresa worked as a legal intern in the International Bureau at the Federal Communications Commission (FCC). At the FCC, Teresa developed her commercial intelligence on the telecommunications sector in Asia.
Teresa is especially interested in the nexus between geopolitics and cross-border transactions, with particular focus on Asia. Following graduation, she hopes to pursue a corporate law career in New York.
Teresa is originally from Austin, Texas. While at UT Austin, she was an Undergraduate Fellow at the Clements Center for National Security, a Delegate at the United Nations Youth Assembly, and received several scholarships for her Chinese language study. She also completed an honors thesis on Chinese soft power. Teresa enjoys analyzing films in granular detail and has even been an extra in a few films. She hopes to become involved with entertainment associations and charities in New York.
Donghua University, Study Abroad, 2016
University of Texas at Austin, B.A. Plan II Honors, 2017
University of Texas at Austin, B.A. Special Honors in International Relations and Global Studies, Minor in Asian Studies, 2017
Georgetown University Graduate School of Foreign Service, M.A. Security Studies, expected 2022
Georgetown University Law Center, J.D., expected 2022