Ambitious First-Generation Problem-Solver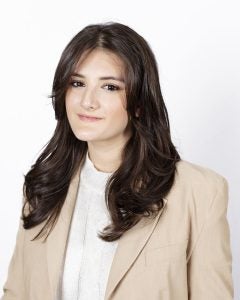 Toby is a current 3L student in Cohort 5 of the Business Law Scholars program. She hopes to use her law degree to build, maintain, and grow ethical and sustainable businesses, with an eye towards the energy sector and ESG practice groups. She is a RISE Fellow, 1L Delegate to the Corporate and Financial Law Organization, and member of the First-Generation Student Union.
Background
Prior to attending Georgetown Law, Toby interned with the Louis D. Brandeis Center for Human Rights under the Law, researching and writing about Title VII civil rights law. Last year, she worked extensively on Dear Accountant, a recently published book about the accounting industry for young professionals to gain mentorship, advice, and inspiration from. She also served as a legal intern for Sanctuary for Families, drafting orders of protection and custody petitions for victims of gender-based domestic violence. While studying abroad in Barcelona, Toby interned at Audiconsultores, a full service law firm, in their legal and human resources department. She has also interned with Court Appointed Special Advocates, in their New York office.
At Vanderbilt, Toby dedicated much time to serving as president of FirstVU-a premier student-run organization which supports, empowers, and connects first-generation students at Vanderbilt. She also worked at the Little Learner's Lab as an Undergraduate Research Assistant.
Beyond Law School
Toby was born in Israel and raised in New York. She spends her free time reading, taking film photos, and practicing flying trapeze.
Vanderbilt University, BS Child Development and Law, History, and Society, cum laude, 2021
Georgetown Law, JD Expected, 2024