Student Writing Competition
Imaginative Responses to the Globalization Backlash
In much of the developed world, a backlash against globalization has gained momentum. The United Kingdom has decided to leave the European Union and the United States has pulled out of the Trans-Pacific Partnership Agreement. Meanwhile, a renegotiation (or withdrawal?) of NAFTA is brewing. The moment is ripe to rethink the course that globalization has taken and to offer alternative paths.
Currently, however, the two dominant positions in the global economic debate consist largely of a wholesale rejection of globalization or, conversely, a defense of the existing liberal globalization as the enlightened economic path that needs to be softened and better explained. This binary choice is too narrow. Can a different type of globalization be imagined? One that recognizes the gains that societies may accrue from economic integration but that at the same time deals seriously with dislocation and negative distributional consequences? Does this require a reform of our existing global institutional arrangements? More concretely, are there specific rules or policies that can be revisited or introduced to respond to these challenges?
Call for papers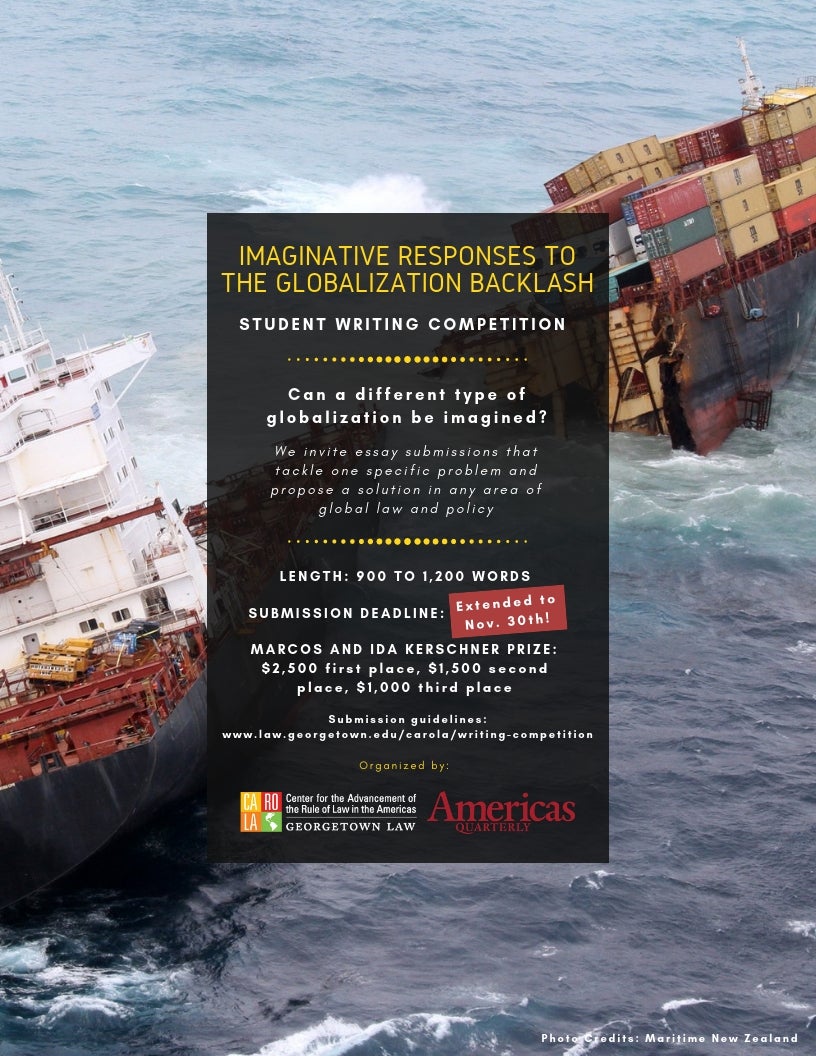 We invite submissions with ideas on how to respond to the current globalization backlash as well as those that offer alternatives to the current global architecture. Essays that refer to legal and/or policy questions concerning an area of international economic law and policy including, but not limited to, international trade, foreign investment, sovereign debt, tax, labor, immigration, and global rule of law principles are especially encouraged.
Submission Deadline (extended to): 5pm EST, November 30th, 2018
Length: 900 to 1,200 words
Winning essays will be awarded the Marcos and Ida Kerschner Prize: $2,500 for first place, $1,500 for second place, and $1,000 for third place. The top submission will also be eligible for publication in Americas Quarterly, the leading publication on politics, business, and culture in the Americas. Submissions will be evaluated by a committee set up by Georgetown Law's Center for the Advancement of the Rule of Law in the Americas (CAROLA). Winners will be announced by December 31st, 2018.
Eligibility: The competition is open to all students currently enrolled in a degree program around the world. Submissions must consist of original, unpublished work, written in English. Essays previously published will not be considered. Submissions should not have undergone any significant editing by professors, editors, or others. Only one submission per person will be considered.
Format: Papers must be submitted in Word format and in double spaced 11 point Calibri font to lawcarola@georgetown.edu with the subject line: "Student Writing Competition Entry." Please limit your submissions to a maximum of 1,200 words (including footnotes). In your submission email, please include your full name, phone number, age, degree program, and expected graduation year.
Enquiries: lawcarola@georgetown.edu