Clinic Students Take On Environmental Injustices of National Importance and Local Necessity
Environmental justice is at the heart of the Environmental Law and Justice Clinic's work as students identify and engage with environmental injustices across society. This semester, ELJC students will work on matters of national importance and local necessity as they immerse themselves in the role of an environmental attorney.
Professor Sara Colangelo participated in the Environmental Law and Justice Clinic as a Georgetown Law student. Now, she is entering her second year directing the ELJC with environmental justice centered at the heart of the Clinic's work.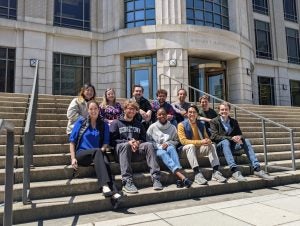 The Clinic's mission includes working for underserved communities disproportionately affected by environmental burdens—specifically legacy pollution—or marginalized in the environmental decision-making process. The second piece of the Clinic's mission is student training: helping students build client-facing skills and develop habits relevant to professional practice.
The Clinic stands on the deep foundation laid by three decades of work by Professor Hope Babcock, whom Colangelo learned under as a Clinic student. Through her clinical experience and subsequent work in environmental law, Colangelo realized how foundational and important the experience is to students, regardless of whether they hope to work in the private sector, government, or public interest field. One priority for the Clinic is to expose students to work tackling environmental injustices spanning litigation, regulatory, and advisory practices.
"We offer different types of projects for different teams because we really want to foster students' ability to identify and engage with those environmental inequities across different types of work," Colangelo said.
The Clinic uses three analytic lenses to influence its work: environmental justice; client-centered lawyering; and the role of the lawyer within the administrative state, which emphasizes thinking about how the administrative process may exclude groups in decision-making that affects people's health and quality of life. These lenses shape every part of the Clinic's work, from learning goals to project selection.
Colangelo said that one of her most significant goals is for the Clinic to participate in matters of both national importance and local necessity, which the Clinic is already accomplishing. Last year, the Clinic filed amicus briefs before the Supreme Court and litigated a challenge to government agency approval of pollution standards for industrial chemicals threatening Maryland waterways and the subsistence fisherpeople who rely on them, among many other projects. This semester, students will file briefs in two high-stakes Clean Air Act cases before the D.C. Circuit focused on pollution with a disproportionate impact on communities with environmental justice concerns.
Through a local, ongoing community lawyering project, students have also filed comments on proposed nuisance regulations and are developing a comprehensive environmental justice action plan for a DC neighborhood. The Clinic hopes the plan can serve as a model for other wards across the city to use and adjust for their specific concerns and how they might advocate for change. Additionally, students are partnering with a national environmental organization to work on behalf of tribal communities on the frontlines of climate migration in Louisiana.
Students work in teams and typically begin projects by scoping out the matter. This involves interviewing the client, community members, or environmental groups to identify concerns and goals. Next, students proceed to fact and legal investigation. Throughout their project, students use a collaborative and iterative problem-solving process called "rounds" to identify and discuss challenges they face in their representation. Students finish the semester with a significant writing piece, which varies from project to project: some students complete a report, strategic advocacy roadmap, petition for rulemaking, or brief. Additionally, students give a final oral presentation to their clients.
Former Clinic student Mariah Heinzerling worked with her team to write a petition for regulatory rulemaking, aiming to protect vulnerable populations, including prison laborers, who clean up oil spills. The paper explained how the law worked, how their suggestions would change it, and an overview of what else was needed to affect the change their client hoped to see.
"I think the most shocking part to me was how small a change could be while still affecting a meaningful difference," Heinzerling said.
The Clinic has twice-weekly seminars throughout the semester, which begin with foundational lessons on environmental justice, administrative law, and other key facets of environmental practice. As the semester progresses, the seminars focus on skills the students can take into their future practices.
"I felt like every single seminar was actually geared toward making me a better lawyer and an effective lawyer—especially in the environmental law context, but more broadly, as well," Heinzerling said. "I always felt like I was learning something practical, as well as something that made me more excited to pursue environmental law."
In addition to the seminars, students meet with clients and lead weekly meetings with their supervisors and peers. In sum, the Clinic models a full-time job, with students working roughly 42 hours a week.
"We want our students to feel completely immersed in the role of an environmental attorney," Colangelo said.
All eight of last semester's students now work in environmental law or related fields. One past student wrote in their anonymous course evaluation that the experience felt "slowed down and zoomed in"—which is exactly what the Clinic is aiming for, Colangelo said.
"We want students to have an experience where they can slow down and be reflective in their thought process," she said. The Clinic wants students to have the opportunity to think through their decision-making process—considering why they pursued a certain research strategy or asked the client specific questions over others, for example—because they likely will not have the opportunity to do so with significant feedback from supervisors in the future.
The slowed-down and zoomed-in process can sometimes face challenges in the inherent urgency of the work. One of the challenges with a clinic focused on issues such as climate change and public health is that people come to the field and want to get the work done, Colangelo said.
"Environmental justice issues impact the way people live their lives every day: the sights, the smells. What is the quality of air that children are breathing?" she said.
"The types of projects we do are important for our local communities and for our national safety in a lot of ways, but the clinic process isn't just churning out work," Colangelo said. "It has got to be reflective, and it has got to really help students develop skills through experiences that they can translate into practice."