Clinic Students win right to divorce for women in Uganda's Constitutional Court
In March 2004, as IWHR Clinic students and faculty sat in the courtroom, the justices of the Constitutional Court of Uganda read their decisions from the bench. The next day's Kampala Monitor newspaper sensationalized the holding—"Wives can divorce cheating husbands," ran the banner headline—but what the court had done was spectacular: for the first time, the Constitutional Court of Uganda had used the gender equity provisions in the Ugandan Constitution to invalidate a discriminatory law.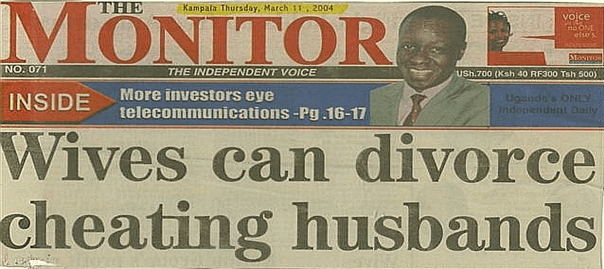 With this decision, the court extended to wives the right to divorce based on their husbands' adultery that the old law gave only to him—a right of great importance in the era of rampant HIV/AIDS. The attorneys of Law and Advocacy for Women-Uganda had won an amazing victory. But it was a victory for Georgetown's International Women's Human Rights Clinic as well. The case had begun as a joint project between IWHR Clinic and LAW-U, and Clinic students initially drafted the Constitutional Court petition and brief, working in tandem with the lawyers who later filed the case in Uganda.
*Uganda Association of Women Lawyers and Ors v Attorney General (Constitutional Petition 2 of 2003) [2004] UGCC 1 (10 March 2004).