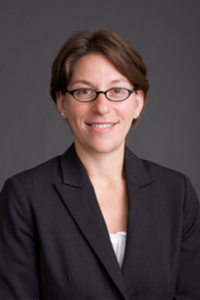 Professor of Law; Agnes N. Williams Research Professor; Associate Dean for Careers
Eloise Pasachoff
A.B., Harvard; M.P.A., Harvard; J.D., Harvard; M.A., Yale
Areas of Expertise:
Phone
Office
McDonough Hall 432
Office Hours
https://calendly.com/eloise-pasachoff/office-hours
Professor Eloise Pasachoff focuses her teaching and writing in the areas of administrative law and education law. Her scholarship has earned national awards in both fields. In 2017, the American Bar Association's Administrative Law Section gave The President's Budget as a Source of Agency Policy Control, 125 Yale L. J. 2182 (2016), one of its annual scholarship awards. In 2012, the Education Law Association awarded Special Education, Poverty, and the Limits of Private Enforcement, 86 Notre Dame L. Rev. 1413 (2011), its Steven S. Goldberg Award for Distinguished Scholarship. In 2019, she became an Agnes N. Williams Research Professor for a term of four years.
Professor Pasachoff is a dedicated teacher. In 2017, Georgetown Law honored Professor Pasachoff with the Frank Flegal Teaching Award. Between 2016 and 2019, she served as chair of the clerkships committee, devoting a lot of her time to helping students secure state and federal clerkships. Starting in 2019, she became Associate Dean for Careers.
Professor Pasachoff is a public member of the Administrative Conference of the United States, an independent federal agency that works on improvements to public administration, management, and administrative procedure. She has also been active in the Association of American Law Schools, serving as chair of the Education Law Section and on the scholarship committee, as well as presenting at the AALS Workshop for New Law School Teachers. She is a member of the American Law Institute and serves on the Academic Advisory Board of the Supreme Court Fellows program.
Professor Pasachoff received an A.B. summa cum laude and Phi Beta Kappa from Harvard, an M.A. from Yale, an M.P.A. from Harvard's Kennedy School of Government, and a J.D. magna cum laude from Harvard Law School, where she was an executive editor of the Harvard Civil Rights-Civil Liberties Law Review. After law school, she served as a law clerk to Judge Jed S. Rakoff of the U.S. District Court for the Southern District of New York, Judge Robert A. Katzmann of the U.S. Court of Appeals for the Second Circuit, and Justice Sonia Sotomayor of the Supreme Court of the United States. She also worked as a litigation associate at WilmerHale LLP in New York City. Immediately before joining the faculty at Georgetown, she taught first-year legal research and writing as a Climenko Fellow and Lecturer on Law at Harvard Law School. Earlier in her career, she taught middle and high school English in public and private schools in New York City. She is a past chair of the Committee on Education and the Law of the New York City Bar Association and served on the board of the Pine Cobble School in Williamstown, Massachusetts for seven years.
Contributions to Law Reviews and Other Scholarly Journals
Congressional Testimony
Protecting Congress's Power of the Purse and the Rule of Law: Hearing Before the H. Comm. on the Budget, 116th Cong., Mar. 11, 2020 (Statement of Eloise Pasachoff) (CIS No: Pending).
[
WWW
]
Forthcoming Works - Book Chapters & Collected Works
Eloise Pasachoff,
On Women's Rights, Legal Change, and Incomplete Sequels​
,
in
Hamilton and the Law: Reading Today's Most Contentious Legal Issues through the Hit Musical​ (
Lisa A. Tucker ed., Cornell University Press forthcoming).
Eloise Pasachoff,
The President's Budget Powers in the Trump Era
,
in
Executive Policymaking: The Role of the OMB in the Presidency
(Meena Bose & Andrew Rudalevige eds., Brookings Institution Press forthcoming).
Book Chapters & Collected Works
Eloise Pasachoff,
Doctrine, Politics, and the Limits of a Federal Right to Education, in
A Federal Right to Education: Fundamental Questions for Our Democracy
84-108 (Kimberly Jenkins Robinson ed., New York: New York University Press 2019).
[
BOOK
]