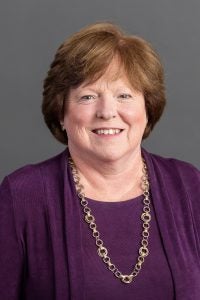 Professor of Law, Legal Practice; Director of the Writing Center
Frances C. DeLaurentis
B.A., University of Notre Dame; J.D., The Catholic University of America
Areas of Expertise:
For more than a decade, Professor DeLaurentis was a litigator whose practice involved civil and white-collar litigation before local and federal courts throughout the United States and the Commonwealth of Puerto as well as internal corporate investigations of major nonprofit organizations. She was a partner at the firm of Verner, Liipfert, Bernhard, McPherson and Hand where she also served as co-chair of the firm's Summer Associate Program, a member of the firm's Hiring Committee, and as the firm's Sexual Harassment Ombudsman. Prior to joining the Law Center, Professor DeLaurentis was an instructor of the Lawyering Skills Program at The Catholic University of America, Columbus School of Law.
At the Law Center, Professor DeLaurentis served for five years as chair of the legal writing program and has been director of the Law Center's Writing Center since 2007. She also has developed a collaboration with the Archdiocese of Washington Catholic Charities Legal Network in which her first year students work on pro bono projects that assist the Legal Network and for which she was awarded the 2015 John Carroll Society's Pro Bono Legal Service Award. She received the Frank F. Flegal Excellence in Teaching Award in 2020.
Contributions to Law Reviews and Other Scholarly Journals
Selected Contributions to Other Publications
Jessica Lynn Wherry & Frances DeLaurentis, A Pathos-Infused Approach to Teaching Legal Research and Writing: A Lesson to Carry Forward from the Pandemic, 29 Perspectives 58-67 (2022).
[
WWW
]
October 9, 2015
The Hoya reported that Professor Frances DeLaurentis was selected as a recipient of the Archdiocese of Washington John Carroll Society's Pro Bono Legal Service Award for her work with the Catholic Charities Legal Network, October 9, 2015.
October 6, 2015
"Atlanta archbishop prays that God will guide those who administer justice," coverage by Catholic Standard, Oct. 6, 2015, featuring Professor Frances DeLaurentis, one of this year's Pro Bono Legal Service Award honoree.