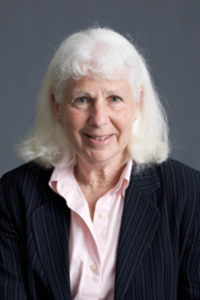 Professor of Law; Director, Environmental Law and Justice Clinic
Hope Babcock
B.A., Smith College; L.L.B., Yale
Areas of Expertise:
Connect With Hope Babcock
Phone
Office
McDonough Hall 312
Professor Babcock served as general counsel to the National Audubon Society from 1987-91 and as deputy general counsel and Director of Audubon's Public Lands and Water Program from 1981-87. Previously, she was a partner with Blum, Nash & Railsback, where she focused on energy and environmental issues, and an associate at LeBoeuf, Lamb, Leiby & MacRae where she represented utilities in the nuclear licensing process. From 1977-79, she served as a Deputy Assistant Secretary of Energy and Minerals in the U.S. Department of the Interior. Professor Babcock has taught environmental and natural resources law as a visiting professor at Pace University Law School and as an adjunct at the University of Pennsylvania, Yale, Catholic University, and Antioch law schools. Professor Babcock was a member of the Standing Committee on Environmental Law of the American Bar Association, and served on the Clinton-Gore Transition Team.
Contributions to Law Reviews and Other Scholarly Journals
U.S. Supreme Court Briefs
Brief of Amicus Curiae American Thoracic Society in Support of Petitioners, California v. Texas, No. 19-840 (U.S. May 13, 2020).
[
WWW
]
Forthcoming Works - Book Chapters & Collected Works
Hope M. Babcock,
Using the Public Trust Doctrine to Manage Property on the Moon
,
in
The Cambridge Handbook of Commons Research Innovations
(Sheila R. Foster & Chrystie Swiney eds., Cambridge University Press forthcoming).