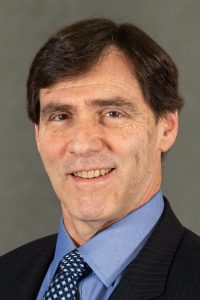 Professor of Law (by courtesy)
John Hasnas
B.A., Lafayette College; J.D., Duke; Ph.D., Duke; LL.M., Temple University
Areas of Expertise:
Connect With John Hasnas
John Hasnas is a professor of law (by courtesy) at Georgetown University Law Center, a professor of business at Georgetown's McDonough School of Business, and the executive director of the Georgetown Institute for the Study of Markets and Ethics. Professor Hasnas has held previous appointments as associate professor of law at George Mason University School of Law, visiting associate professor of law at Duke University School of Law and the Washington College of Law at American University, and Law and Humanities Fellow at Temple University School of Law. Professor Hasnas has also been a visiting scholar at the Kennedy Institute of Ethics in Washington, DC and the Social Philosophy and Policy Center in Bowling Green, Ohio. He received his B.A. in Philosophy from Lafayette College, his J.D. and Ph.D. in Legal Philosophy from Duke University, and his LL.M. in Legal Education from Temple Law School. His scholarship concerns ethics and white collar crime, jurisprudence, and legal history.
Contributions to Law Reviews and Other Scholarly Journals
John Hasnas,
The Core of Business Ethics
, 125
Bus. & Soc'y Rev.
375-385 (2020).
Selected Contributions to Other Publications
John Hasnas,
Defending Private Safety Regulation
,
Regulation
, Spring 2020, at 40-42.
[
HEIN
]
Book Chapters & Collected Works
John Hasnas,
Freedom of Expression at the Private University
,
in
The Value and Limits of Academic Speech: Philosophical, Political, and Legal Perspectives
78-95 (Donald Alexander Downs & Chris W. Surprenant eds., New York: Routledge 2018).
[
SSRN
]