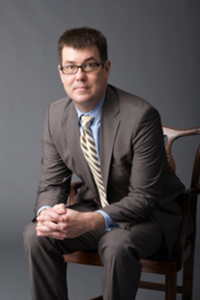 Professor of Law
John R. Thomas
B.S., Carnegie Mellon; J.D., University of Michigan; LL.M., George Washington
Areas of Expertise:
Phone
Assistant
Melanie Hudgens
Office
McDonough Hall 496
Professor Thomas joined the Law Center faculty in 2002. He has served as a Visiting Scholar at the Congressional Research Service for the past decade and was named the inaugural Thomas Alva Edison Visiting Scholar at the U.S. Patent and Trademark Office in 2011. He previously was a member of the faculty of the George Washington University Law School, and has served on the visiting faculties at Cornell Law School and the University of Tokyo. Professor Thomas formerly served as law clerk to Chief Judge Helen W. Nies of the U.S. Court of Appeals for the Federal Circuit; visiting fellow at the Max Planck Institute for Foreign and Comparative Patent, Copyright and Unfair Competition Law in Munich, Germany; and research scholar at the Institute of Intellectual Property in Tokyo, Japan. Professor Thomas has published numerous articles and six books on the subject of intellectual property law.
Forthcoming Works - Journal Articles & Working Papers
John R. Thomas,
Hatch-Waxman's Renegades
, 2022
U. Ill. L. Rev.
(forthcoming).
Books
Brian Dean Abramson with Dorit Reiss, Peter O. Safir & John R. Thomas, Vaccine, Vaccination, and Immunization Law
(Arlington, Va.: Bureau of National Affairs 2d ed. 2021).
Roger E. Schechter & John R. Thomas, Principles of Trademark Law
(St. Paul, Minn.: West Academic 2021).
[
BOOK
]
Roger E. Schechter & John R. Thomas, Principles of Patent Law
(St. Paul, Minn.: West Academic 3d ed. 2019).
[
BOOK
]
Book Chapters & Collected Works
John R. Thomas,
Pharmaceutical Patents
,
in
Research Handbook on Patent Law and Theory
353-377 (Toshiko Takenaka ed., Cheltenham, U.K.: Edward Elgar 2d ed. 2019).
[
BOOK
]