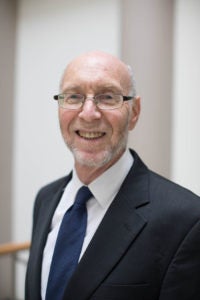 Distinguished Lecturer from Government
Michael Dreeben
B.A., University of Wisconsin-Madison; M.A., University of Chicago; J.D., Duke University
Michael Dreeben serves as a distinguished lecturer from government. From 1988 through 2019, Dreeben served in the Office of Solicitor General in the U.S. Department of Justice, first as an Assistant to the Solicitor General and then as a Deputy Solicitor General. As Deputy Solicitor General from 1994 to 2019, Dreeben supervised the criminal docket for the United States in the U.S. Supreme Court. Dreeben has argued 105 Supreme Court cases on behalf of the United States and briefed hundreds of other cases in the Supreme Court and in the lower federal courts. He also argued cases in every regional federal court of appeals, including en banc cases in ten circuits.
In June of 2017, Dreeben was detailed to Office of Special Counsel Robert S. Mueller III where he served counselor to the special counsel in the investigation of Russian interference in the 2016 presidential election and obstruction of justice. In that capacity, he successfully represented the special counsel's office in federal court against legal challenges to its authority.
During his tenure in the Solicitor General's office, Dreeben argued many landmark cases in criminal law and procedure. These include cases involving hate crimes and the First Amendment, Fourth Amendment rights in the internet age, cases involving public corruption and private fraud, and the Sixth Amendment's Confrontation Clause. For several months in 2006, he also served as a Special Assistant United States Attorney in the District of Maryland.
Dreeben received his bachelor's degree from the University of Wisconsin-Madison, a master's degree in history from the University of Chicago, and his law degree from Duke University, where he served as an articles editor on the Duke Law Journal. He served as a law clerk to the honorable Jerre S. Williams of the United States Court of Appeals for the Fifth Circuit. He has previously served as an adjunct professor at Georgetown Law and a visiting professor at Duke Law School, where he taught appellate advocacy and a seminar on constitutional litigation in the Supreme Court.