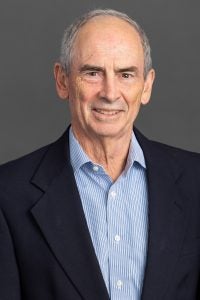 Peter P. Weidenbruch, Jr. Professor of Business Law
Robert B. Thompson
B.A., Vanderbilt; J.D., University of Virginia
Areas of Expertise:
Connect With Robert B. Thompson
Phone
Office
Hotung Building 6012
Professor Thompson teaches courses in the corporate and securities area, including mergers and limited liability. He joined the Georgetown faculty in 2010 after visiting in 2009-10. Previous positions include service as the New York Alumni Chancellor's Professor of Law and Professor of Management at Vanderbilt University and the George Alexander Madill Professor of Law at Washington University. He has visited at New York University and Northwestern University and has taught intensive courses at the University of Sydney. He has authored or co-authored casebooks on corporations and on mergers, treatises on Close Corporations and Oppression of Minority Shareholders and LLC Members, and more than 50 articles. Professor Thompson has testified before committees of Congress, a state legislature, and the New York Stock Exchange. He has served since 1991 as editor of the Corporate Practice Commentator, served as an adviser for the American Law Institute's Restatement (Third) of Agency and chaired two sections of the Association of American Law Schools.
Books
Robert B. Thompson, Mergers and Acquisitions: Law and Finance
(New York: Wolters Kluwer Law & Business 4th ed. 2022).
[
BOOK
]
Research Handbook on Corporate Purpose and Personhood
(Elizabeth Pollman & Robert B. Thompson eds., Northampton, Mass.: Edward Elgar 2021).
[
BOOK
]
Contributions to Law Reviews and Other Scholarly Journals
Book Chapters & Collected Works
Robert B. Thompson,
The Shareholders Cause of Action for Oppression
,
in
The Best of The Business Lawyer: 75 Years of Corporate Law
713-760 (Karl John Ege & John F. Olson eds., Chicago: American Bar Association 2020).