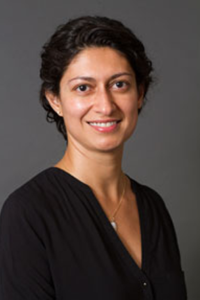 Associate Professor of Law
Sherally K Munshi
B.A., Brown; J.D., Harvard; Ph.D., Columbia
Phone
Office
McDonough Hall 412
Office Hours
Monday 4:00-5:00pm & Wednesday 11:00am-12:00pm
Sherally Munshi earned her JD from Harvard Law School and a PhD in Literature from Columbia University.  Before coming to Georgetown, she was a Perkins / LAPA Fellow at Princeton University. Her areas of scholarly interests include property law, immigration law, and critical legal theory. Her writing has appeared in the Yale Journal of Law &Humanities, the American Journal of Comparative Law, and Harper's. Prior to teaching, she worked as a legal associate at Willkie Farr &Gallagher, LLP, in New York.  
Contributions to Law Reviews and Other Scholarly Journals
Book Chapters & Collected Works
Sherally Munshi,
Manners of Exclusion: From the Asiatic Barred Zone to the Muslim Ban
,
in
Deepening Divides: How Territorial Borders and Social Boundaries Delineate our World
118-143 (Didier Fassin ed., London: Pluto Press 2020).
[
BOOK
]
Sherally Munshi,
Immigration and the Imperial
,
in
The Oxford Handbook of Law and Humanities
497-516 (Simon Stern, Maksymilian Del Mar & Bernadette Meyler eds., New York: Oxford University Press 2020).
Sherally Munshi,
"You Will See My Family Became So American": Race, Citizenship, and the Visual Archive, in
Law and the Visual: Representations, Technologies, and Critique
161-188 (Desmond Manderson ed., Toronto, Can.: University of Toronto Press 2018).
[
BOOK
]