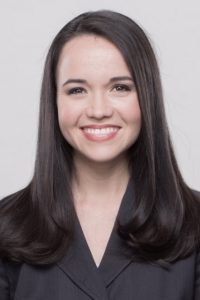 Georgetown University Law Center Legal Fellow; Visiting Lecturer
Stephanie Inks
B.A., Hillsdale; J.D., Georgetown
Professor Inks is a research and clinical fellow at Georgetown University Law Center. Previously, she practiced law for six years as a litigator at Simpson, Thacher, and Bartlett in both New York and Washington D.C. where she represented a wide variety of clients including corporations, financial institutions, and individuals in a broad range of complex disputes including securities litigation, insurance coverage litigation, general commercial litigation, as well as antitrust, corporate and government investigations and white-collar proceedings. On a pro-bono basis, she represented two indigent children from Ecuador, winning them a grant of asylum. Before beginning her practice, Professor Inks taught Constitutional Law to undergraduate students at Louisiana State University.
Her area of interest includes teaching law students with an emphasis on how to engage and promote dialogue in a civil, respectful, mutually understanding way while living with the deepest of differences in a pluralistic society. Her most recent article: "How Immigration Law's Looming RFRA Problem Can Be Solved By RFRA" was published by BYU Law Review in 2019.
Professor Inks received her J.D. from Georgetown University Law Center and her B.A. magna cum laude from Hillsdale College.