Fighting for Accountability: An Interview with Amanda Strayer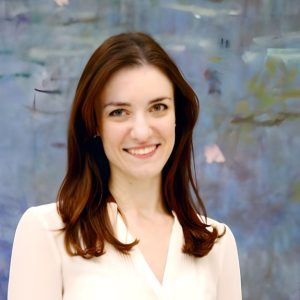 Amanda Strayer
Fighting for Accountability
As the Supervising Staff Attorney for Accountability at Human Rights First, Amanda draws on her personal passion, her creative mindset, and her solid grounding of human rights law and practical lawyering skills learned at Georgetown to take on the perpetrators of horrific human rights abuses.
From Passion to Purpose
Amanda has always been drawn to promoting the rights of marginalized and vulnerable persons around the world. Before law school, her passion for elevating the voices of those who are less heard and less seen led her to work with Women for Women International, an NGO that provides training and support to women in conflict-affected countries as they become catalysts of change in their families and communities. "I had the chance to spend time interviewing women in places like Afghanistan and Rwanda about their experiences of conflict, displacement, poverty, violence, and the ways in which legal inequality in their countries and communities impacted their lives," says Amanda. "Those experiences really inspired my interest in going to law school."
Focused Exploration and a Strategic Emphasis on Practical Skills
At Georgetown Law, Amanda delved into classes on international human rights law, international humanitarian law, and international criminal law. She also focused on building her practical skillset by taking advantage of a wide variety of experiential opportunities. Through advocating for the rights of LGBTQIA+ persons in Guyana as part of the Human Rights Fact-Finding Practicum, crafting legal arguments to curb child marriage in Botswana as a student in the International Women's Human Rights Clinic, and her externships and summer jobs, Amanda developed a "strong grounding" in the work of a human rights lawyer. "My time at Georgetown was really focused on very practical skill building experiences—as many of those as I could fit in. Based on my work before law school, I knew developing these skills would be critical for the career I wanted going forward," says Amanda.
These academic and professional experiences serve her well now. "Having that wide breadth and grounding in different aspects of human rights law, as well as an emphasis on gaining practical lawyering skills through experiential courses, allowed me to be more creative in how I approach problem-solving at my organization," says Amanda. At Human Rights First, "we often wear a lot of different hats." On any given day, Amanda could be advising her coalition of 300-plus NGOs from around the world on how to document human rights abuses, advocating for law or policy change on the Hill, or crafting messages for media and press releases. "A lot of the NGO space is oriented around creative problem-solving, and that means being able to acknowledge what you don't know and to pull together the people and the resources that you may need to find answers and move forward," she says. As a human rights lawyer, Amanda says "finding creative solutions for things that may seem intractable" is one of the greatest and most rewarding challenges.
Hope Amidst the Challenges
Amanda has experienced firsthand how difficult human rights advocacy can be. "You work so hard for what sometimes feels like such small wins or to just hold the line and prevent backsliding," says Amanda, who acknowledged that this can sometimes make it hard for advocates to stay motivated. However, in her work to help NGOs make recommendations to the U.S. government on individuals to target for sanctions under the Global Magnitsky sanctions program—inspired by a bipartisan law that was passed in 2016 and which provided a new legal avenue for accountability—there is a real and palpable sense of optimism. "Some of these civil society groups have tried to hold perpetrators in their country to account for decades and have not seen any movement," she said. Being able to advocate for governments to impose public sanctions on the perpetrators of horrific abuses, such as extrajudicial killings, torture, enforced disappearances, rape and sexual violence, and violence against human rights defenders, "infuses hope and optimism that bad actors may be held accountable for victimizing others." When her work with NGOs results in such sanctions and public accountability for human rights abuses, "It's such an incredible moment for advocates and survivors of these abuses to see a measure of justice and accountability. That's really one of the most gratifying parts of the job." Of the 475 human rights abusers and corrupt actors sanctioned under the Global Magnitsky program, about one-third have a basis in recommendations from civil society groups, underscoring the impact that advocates can have.
In the face of struggles, Amanda believes that it is important to be realistic about the nature of the work, but it is also important "to not lose your own hope and not lose your own sense that each of us can make some contributions towards helping to make things better. Things do not change for the better unless there are people invested in and spending their time and commitment to do that kind of work."
Advice for Students on Forging a Pathway in Human Rights
Amanda's advice to students looking to embark on a career in human rights work is to focus on building practical skills and to invest time in developing professional relationships. "It's not an easy path but it is such a rewarding path," says Amanda. In encouraging students to follow their passion and interests, she stated that "there are plenty of people who have been in your shoes before and want to help you. You have more advocates and allies out there than you might expect."