Housing Hero: An Interview with Eric Tars
For our first post, we interviewed Eric Tars on his journey from Georgetown Law to Legal Director. This interview has been edited for clarity.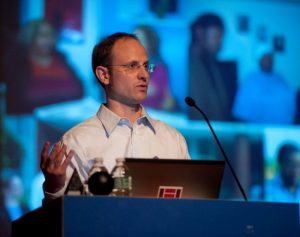 Eric Tars
Eric Tars is the Legal Director at the National Homelessness Law Center, where he oversees all programmatic work, litigation, training, outreach, and advocacy. Eric works in various program areas that address civil and human rights within housing and homelessness policy.
How did your time at Georgetown Law prepare you for your current career?
As a student, I planned to use my education strictly for policy advocacy. I didn't believe I would ever litigate. However, things often don't turn out as expected and I've litigated many cases, including one that went all the way to the Supreme Court! This has made me grateful for all my legal training at Georgetown. Learning about case law and arguments has prepared me, and definitely the conversations about policy. I've always been interested in learning about the policy side – how laws are made and enforced. At Georgetown, I worked as a research assistant for Professor Mari Matsuda, one of the founders of critical race theory, and that grounding and experience have been hugely influential in the work we do at the National Homelessness Law Center. Through my experience, I discovered how the most marginalized are impacted by laws and policy and have worked to ensure that as an organization, we are doing racial and equity work both internally and externally. My time at the International Women's Human Rights Clinic was also extremely influential in guiding my current path.
What path did you follow to get to your current position?
While at Georgetown, I focused on international and human rights, which has been a passion for me since high school. My father was a refugee during World War II and that led to a deep sense and understanding of the privilege of being born in the United States early on in my life. I just knew that I needed to utilize that privilege to make change. I originally thought that doing human rights work meant doing work abroad. But in working with Professor Matsuda in researching racial disparities in education in the U.S., she asked me whether the human rights standards I was studying applied here in the U.S. This was my first "eureka moment." I saw that those benchmarks were far superior and more developed than the case law in the U.S., and graduated knowing that I still wanted to do human rights, but domestically. Initially, I joined Global Rights in their nascent domestic program. I used the same skills developed at Georgetown in my domestic policy advocacy and worked there for almost a year. After that, I worked as a consultant on human rights. Although I was training lawyers and advocates on how to integrate human rights into their work, I knew that I had never fully experienced that myself. So I applied to the National Homelessness Law Center to dig into the issue and figure out what it really means to do domestic human rights work. Being at the National Homelessness Law Center, I had a long learning curve. I've worked there for 15 years but, for the first ten, advocating for the human right to housing often felt like banging my head against the wall. But in the past five years or so, I've seen the seeds planted 15 years ago come to fruition, which has been a truly incredible experience. Now, the federal government and various agencies have started using human rights language to talk about homelessness, especially in relation to criminalization. Over the past couple of years many of the Democratic candidates, including President Biden, have discussed housing as a human right. In fact, just last week [on March 22, 2022], HUD Secretary Fudge stated that housing is a human right — the first time for a sitting HUD Secretary in all my years of advocacy. Last year, the Housing is a Human Right Act was proposed, and Cori Bush used the human right to housing frame to force an extension of the federal eviction moratorium. So, our efforts are really coming to fruition. Unfortunately, that's only true because of the demand. People's rights are constantly being violated. But I'm glad the conversation on affordable housing has transformed into one about rights. You beg for charity, but you demand your rights. And that's what we're starting to see — people demanding their right to affordable housing.
What's your advice for current students?
Take the courses you want to take. Anything you need for the bar, you will get from the bar prep course, so don't take corporations or taxes if you don't want to. That being said, I sometimes wish that I knew those areas better, so don't shy away from them either, if the interest is there. After my first year, I took all civil and human rights courses and theory classes with a focus on writing. I figured that I could pick up content along the way, which has largely been true. I also took a lot of paper classes so I could spread my work out over the semester. A career in human rights is possible, especially now that there are so many more opportunities like public service student loan forgiveness. Those loan programs make it possible to do the public interest work. While you won't be making the same salary as your peers in BigLaw, there's the possibility to be much happier. Also, public interest work can be more sustainable in the long run.
What skills are important in your field?
Analytic skills! Also, lawyers need to understand how laws are constructed and how they impact people. Learning about critical race theory and other schools of legal thought (like gender studies) helps provide that perspective. The most important thing is to learn how to think about the law from the bottom up. It is also crucial to develop your writing and public presentation skills. I took "Presentation Skills for Lawyers" which focused on non-courtroom presentations, like how to prepare a good PowerPoint or construct a convincing speech. Those are crucial skills that you might not get elsewhere.
Anything else you'd like to share?
For students looking at public interest work, making that decision can involve some anxiety-inducing moments when all their classmates already have positions lined up early in the academic year. The nonprofit hiring schedule doesn't start until the spring and I didn't secure my first position until the week before graduation. For a good portion of the spring, I didn't know how I'd pay the bills. There can and will be those moments but as long as you are dedicated to the work and show you've followed your passion by doing internships, clinics, and volunteering, there will be opportunities. Those sorts of things are apparent to the organizations you're hoping to be hired by. Also, if you're not going the big firm route, law review and moot courts are less important. They're definitely not bad and if you want to do them, they are not negative in your application but are a huge time suck if you're not interested in those litigation skills. I decided instead to be a research assistant, where I got paid, kept my loans down, worked with leading scholars on their research, and received direct mentorship. That was a truly great experience which you can sell equally well in your cover letter. Nonprofits don't necessarily place a premium on seeing you on the law review, so find a professor whose work you're interested in and work with them. It's a better way to develop skills. I'm still in touch with my mentors from law school!
What do you do outside of work that gives you joy?
I have two young daughters and still read them bedtime stories. I'm in there for about an hour every night and that's just the best!