Defending Democracy Around the World: An Interview with Michelle Gulino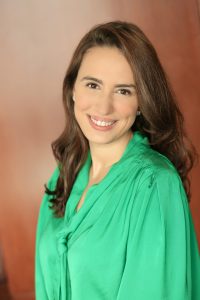 Michelle Gulino
Challenging Authoritarianism with Bold Legal Advocacy
As Director of the Legal and Programs department of Human Rights Foundation (HRF), a nonpartisan and nonprofit organization that advances civil and political rights exclusively in authoritarian regimes, Michelle Gulino (L'18) is no stranger to bold campaigns for societal change.
Michelle is part of a dedicated team that focuses its resources on closed societies where authoritarian governments penalize dissent and the space for civil society organizations is extremely limited. "Because there is no judicial independence in dictatorships," Michelle explains, "dissidents, human rights activists, and journalists are frequently targeted by the regime, arrested without charge, or imprisoned without a fair trial."
Under HRF's Impact Litigation Program, Michelle and her team bring "emblematic cases of arbitrarily imprisoned dissidents to semi–judicial international bodies, such as the UN Working Group on Arbitrary Detention, to exert pressure on authoritarian regimes to release these individuals." Michelle and her team also make regular submissions to the UN Human Rights Council under its Periodic Review of the human rights records of all UN Member States, as well as to relevant UN Special Rapporteurs and other stakeholders.
The fact that Michelle's work deals with "soft" international law, without legally binding force, can be frustrating. But, she says, "this is also why advocacy beyond our legal submissions — and which captures global attention— is extremely important."
As part of its mission to provide a platform for human rights activists to share their stories and call on the international community for support, HRF also hosts an annual human rights conference called the Oslo Freedom Forum. "Very often, the individuals we meet through this incredible network are people we later represent via impact litigation," says Michelle.
Risks and Rewards
Michelle's job comes with rewarding and difficult moments — "sometimes in equal measure," she says. "The most challenging part is coping with a feeling that you will never be able to do the maximum amount of good for the individuals living under authoritarianism — a number which is over half the global population."
Repression of dissidents is pervasive; and the human rights activists with whom Michelle has worked face arbitrary arrests, detention, kidnappings, torture, extrajudicial killings, and other means of repression. One of the people Michelle's team represented died while arbitrarily detained; others manage to survive detention but are later targeted again. Additionally, exposure to graphic content relating to the individuals whose rights Michelle works to promote and protect means that secondary trauma is a real risk for many people working in this field.
"We work to provide services that allow activists and others to build a toolkit to effectively contribute to their coping mechanisms," says Michelle. "And when all is said and done, the community I've found in this field is unlike any other, and there is little I can think of that brings more satisfaction and personal joy than knowing that I've made even one individual's life that much better — that through my work, I've contributed to someone's capacity for resilience."
Advice for Students Taking the Road Less Traveled
When researching and applying to law schools, Michelle made sure to select schools that had strong international programs. And during her time at the Law Center, Michelle honed her reasoning, writing, and advocacy skills in the International Women's Human Rights Clinic.
Still, Michelle admits that being a public interest–minded law student can be isolating, particularly if most of one's law school peers are focused more on the traditional firm route. "You very much have to be an advocate for yourself and remain firm in your convictions and chosen career path," says Michelle. "It is stressful not having the same paycheck to rely on, secondary trauma takes its toll, and it is so challenging to feel weighed down by the burden of being tasked with helping others in such a monumental way." But the rewards of a human rights, public interest career can be tremendous; and Michelle finds joy in her work every day.
Her advice for students looking to embark on this path is straightforward: "Be a go–getter." If human rights work is your passion, she says, "demand excellence of yourself and those whose job it is to provide you with support. And demand the same attention for your career path as those on other paths receive in law school."