Ending Abuse at the Border: An Interview with Shaw Drake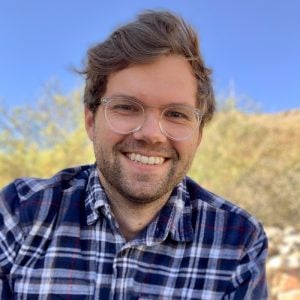 Shaw Drake
Shaw Drake (L'15) did not always know he would work with migrants and refugees. But as a Senior Policy Counsel for the ACLU based in El Paso, TX, he is part of a vibrant community of residents and NGOs making real change at the U.S.-Mexico border.
"To be able to bring the experiences of those directly impacted, … leverage our unique abilities as the ACLU to uncover information about abuses of federal law enforcement agencies, or document those abuses to translate the stories of people who are brave enough to share with us about their experiences with border patrol and other federal law enforcement is a real humbling experience," Shaw shared. He describes his job as a true privilege.
The Road to Realizing His Passion
Shaw's interest in immigrants' rights issues began in his childhood in North Carolina. "At the time, the state was engaged in a number of abusive immigration enforcement tactics," he explained. Seeing the impact of these policies bred an awareness of the issue from a young age.
It was during Shaw's volunteer work with No More Deaths in Arizona during his undergraduate years, however, that he truly became passionate about working at the border. "I really got hooked on these issues because of the human devastation that I witnessed during my time in the desert," he said.
No More Deaths is a humanitarian aid group based in Southern Arizona that puts water out for migrants crossing the border in the Arizona deserts. Shaw returned to No More Deaths following graduation, where he worked on the Mexican side of the border as Logistics Coordinator for the nonprofit.
Shaw was struck by the abuses perpetrated by Border Patrol agents on these migrants. He described scenes of agents forcing migrants to roll around in the mud or hold a squat position and of people being deported with broken limbs or cactus spikes in their eyes. "Seeing those abuses firsthand and hearing about them secondhand really stays with you, and that exposure motivated me to always be looking out for opportunities to circle back to those issues," he said.
It was not until Shaw worked at the Bellevue/NYU Program for Survivors of Torture that he realized law school was the path for him. "The legal work that was a part of that position was very concrete and had a very specific impact in people's lives," he said.
A Diversity of Experiences at Georgetown Law
Shaw credits HRI's Fact-Finding Practicum with helping him to build a skillset he would later use as a human rights attorney. "My time at Georgetown was really dominated by the work I did through the Human Rights Institute," he commented.
In addition to the Practicum, Shaw focused his time at law school on numerous externships and human rights opportunities, all in hopes of building the widest skillset he could. "Georgetown provides a really wonderful array of opportunities for students interested in this work," Shaw said.
During law school, Shaw worked at Human Rights Watch, the ACLU National Prison Project, the American Bar Association's Justice Defenders Project, among other human rights organizations. "That gave me a really broad foundation of skills to build from no matter what topics I ended up working on post-law school," he said. The Human Rights Institute awarded Shaw the Bettina E. Pruckmayr Memorial Award for his commitment to human rights work.
A Return to the Border
After graduating in 2015, Shaw took advantage of an Equal Justice Works Fellowship to work at Human Rights First. Shaw's time there was marked by the election of Donald Trump as President in 2016, and he focused the second year of his fellowship on documenting unlawful turnbacks at the border of people seeking asylum.
In 2018, Shaw joined the ACLU Border Rights Center as Policy Counsel before transitioning into a Staff Attorney and Policy Counsel role at the ACLU of Texas and finally into a Senior Policy Counsel position at the national ACLU. He finds his work to be incredibly rewarding and is grateful for the opportunities his job affords him to speak truth to power.
Still, human rights law is a field where progress is slow and efforts must be vigilant. "Carving out any victory when you're working to try and hold the nation's largest law enforcement agency accountable is a big challenge," Shaw explained. "Victories and positive movement are few and far between, and it's really difficult to sit back and watch a real trainwreck of policy-making play out on the ground in a way that impacts thousands of lives."
Shaw explained that a vital part of the job is recognizing your own limitations. "It's a challenge to know that the government and the agencies involved are making the wrong decision, and knowing that those wrong decisions are going to cause immeasurable suffering," he said. "You certainly have to get to a place where you recognize you can't prevent any of that from happening. You can only hope that the work you do is putting another grain of sand on the right side of the scale."
Advice for Law Students
For law students hoping to pursue a career in human rights law, Shaw emphasizes the importance of building a skill set that includes political awareness. "Oftentimes, on many issues, particularly in the U.S., what it really boils down to is a political calculation by people in power," Shaw said. "Don't worry as much about coming out of law school as an issue area expert in any one topic," Shaw shared. "You're best served by building that broad foundation of skills that you can apply to a wide range of topics in the future."
Shaw challenges law students hoping to pursue a human rights career to think about their place in the broader movement. "In any given context, there is going to be a broader movement of people who have worked on these issues for years, and it's important to take a critical look at the role that you intend to play."
Still, he hopes many students at the Law Center are willing and able to launch a career in public interest law. "It can be a rewarding one," Shaw says of the career path. "And we need as many people as possible dedicated to it because none of us can do it alone."