A Bicoastal Work Week for the Georgetown Climate Center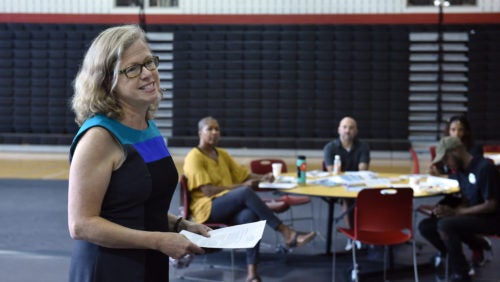 The Georgetown Climate Center's involvement in a pair of events in early September demonstrates how its efforts to address climate change extend both locally and globally.
On Saturday, September 8, Executive Director Vicki Arroyo (L'94), Adaptation Program Director Jessica Grannis (LL.M.'13) and Jennifer Li, clinical fellow for the Harrison Institute for Public Law gathered with community leaders and residents of Washington, D.C.,'s Ward 7 to talk sustainability, equity and resilience in an area of the city particularly at risk to the effects of climate change. At a breakfast forum held in the H.D. Woodson High School gymnasium, a group of residents tasked with finding ways to ensure citizens' voices are included in the city's climate change adaptation and clean energy efforts presented their recommendations to the community.
The Climate Center supported the Ward 7 Equity Advisory Group's (EAG) work since it was formed over a year ago under a grant the city received from the Funders' Network for Smart Growth and Livable Communities (and other funders). The city [the District Department of Energy and Environment] chose as a nonprofit partner the Georgetown Climate Center, which helped raise matching funds for the effort, brought in an independent facilitator and project evaluator, and provided other support throughout the year.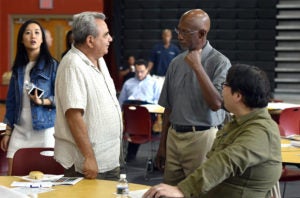 It wasn't a typical Climate Center project, Arroyo said. Center initiatives addressing the transportation and energy sectors and adaptation planning usually involve working directly with government officials, nongovernmental organizations, industry leaders, and other stakeholders, she said.
"We don't do a lot of this kind of roll-up-your-sleeves, on-the-ground-with-citizens work because most of our work is generally targeted at the policymakers themselves," Arroyo said. "In this case, Ward 7 was interacting with the top-down climate plan of the D.C. government, and so it was really learning from both directions. The community itself has the most expertise on what are the compelling concerns of the community members."
The neighborhood has suffered repeated flooding over the years that may be becoming more frequent and intense due to climate change. Watts Branch, a tributary stream that flows into the Anacostia River, runs through much of the area, including right alongside H.D. Woodson. A U.S. Corps of Army Engineers map on display at the forum showed how extensive the flooding may get.
One overarching EAG recommendation was to create "resilience hubs" strategically located in Ward 7 offering resources to residents during disaster events and serving as centers for community needs. The group also recommended launching workforce development programs that would include preparing youths for jobs in the clean energy sector.
It was important that residents themselves identified what was needed, Grannis said.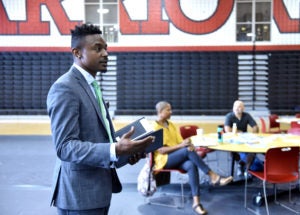 "I think a part of ensuring an equitable approach to adaptation is engaging the communities that are going to be most affected by the impacts of climate change," Grannis said. "We need to make sure that the folks that are most affected by climate change are part of the conversation and part of generating the solutions."
Climate Action Summit
Two days after the community form, Arroyo and her colleagues headed across the country to take part in a Global Climate Action Summit in San Francisco.
In an article published ahead of the event, she described the gathering as a "pivotal moment" to redouble efforts by cities, states, the private sector, and other constituencies to take action on climate change following the United States' withdrawal from the 2015 Paris Climate Change Agreement.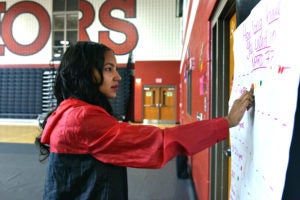 "[T]he Summit has the potential to be a watershed moment to re-engage and energize important constituencies, focus attention of subnational leaders, and put climate change policy back on the front burner in a turbulent and changing political environment," Arroyo wrote.
Arroyo and her team met with policymakers from around the world and participated in events on reducing emissions in the transportation sector and boosting climate change collaboration among states. The summit was co-chaired by California Gov. Jerry Brown and U.N., industry, and other leaders.
Whether in a high school gym with nearby residents or in an urban convention center with thought leaders from around the globe, the Georgetown Climate Center aims "to help the 'coalition of the willing'" dedicated to addressing climate change, Arroyo said. The center's efforts are tied to Georgetown's Jesuit mission of service, she said.
"Because of the disproportionate impacts of climate change," she said, "we've always tried to have an equity lens to make sure that the work that we do is aimed at the communities that need it most."
For longtime Ward 7 community member and EAG participant Zandra Chestnut, it's about "leaving a legacy of stewardship" for her 15 grandchildren.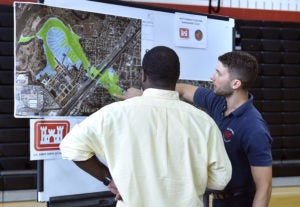 "With climate change, we're having strange occurrences that we hadn't seen in decades, sometimes centuries," she said. "And we have to acknowledge that it's Earth telling us you've got to get your act together. We better get with it or there won't be anything left for kids, and that's what it's all about."