A Conversation with Supreme Court Justice Elena Kagan: John Paul Stevens, Gerrymandering, Writing and More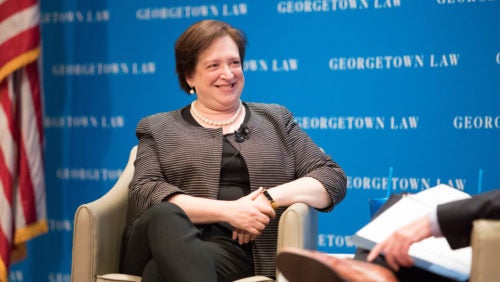 Just days after the death of retired Supreme Court Justice John Paul Stevens, Supreme Court Justice Elena Kagan came to Georgetown Law to talk about her predecessor, gerrymandering, writing and more, in a conversation with Dean William M. Treanor.
Kagan, a former Harvard Law dean and the first female solicitor general of the United States, took the seat vacated by Justice Stevens on the Court when he retired in 2010 at the age of 90. Stevens was pleased with his successor, saying that "thanks to Elena, I have never regretted my decision to retire."
"What a life," Kagan said, speaking in Georgetown Law's Hart Auditorium on July 18. "Ninety-nine years old, sharp as a tack until the day he died… We should all have a life like that. He was an extraordinary man, extraordinary justice… Everybody uses the same words to describe him…kind, and humble, and respectful of everybody. He treated everyone with dignity. He had so much personal class, and so much kindness. Every clerk he had, I think, would tell you he was the best boss they ever had."
As a justice who served nearly 35 years on the Court, Stevens "was a brilliant lawyer in the technical and craft aspect of the job," Kagan said.
"At the same time, he had a real passion for justice…," she said. "He was fiercely independent, and in different parts of his career…he played different roles on the Court, sometimes solo…some[times] more the leader of a particular set of justices, but throughout he was marked by a strong sense of integrity in his own decisionmaking… I think he really cared about the Court as an institution."
Regarding her own career, Kagan discussed the writing of opinions, and the dissent she penned in the Court's 5 to 4 gerrymandering decision in June. The majority opinion by Chief Justice John Roberts held that partisan gerrymandering claims present political questions beyond the reach of the federal courts. Kagan disagreed.
"I didn't really pull [any] punches about the importance that I thought that decision had about our political system and the way we govern ourselves…" she said. "There, you're not writing the dissent because you just thought you saw the thing differently and you think everybody should know that there were two sides to this issue. You are writing the dissent because you want to convince the future. You want to convince the present, too, but for all those people out there who in some way can carry on the efforts against this kind of undermining of democracy, go for it… Maybe the Court will change its mind…maybe it won't."
On writing style, Kagan admires the late Justice Robert Jackson and late Justice Antonin Scalia. "Somebody said that Justice Jackson served on the Court for barely longer than I have now, and it made me feel so deflated," she joked. "Really? He wrote all of that?"
On the issue of leadership — as Treanor noted, Professor Hillary Sale teaches a Women and Leadership seminar at Georgetown Law — Kagan admitted that the skills she learned as the dean of a law school do not necessarily translate to the Supreme Court. "The Chief Justice is very clear that the Associate Justices are not the leaders," she said, to laughter. "We are nine equal participants, and to the extent that we are unequal, the Chief Justice is the unequal one."
The event was hosted by the Washington Council of Lawyers and its president, David Steib (L'08). As a law student at Georgetown, Steib helped found the student group Students for Public Interest and Community Service (SPICE) to provide support for public interest law students. The Washington Council of Lawyers, he told the group in 2015, is "like SPICE for practicing attorneys." The voluntary bar association, founded in 1971, is committed to ensuring that our legal system treats everyone fairly, regardless of money, position, or power.
"Being a member of Washington Council of Lawyers loops you in to great events like this one," Steib said, "and makes you part of a community of lawyers from all sectors, gathered together around the common cause of ensuring access to justice."